Newtown residents honored at Yankee Stadium
Newtown residents honored at Yankee Stadium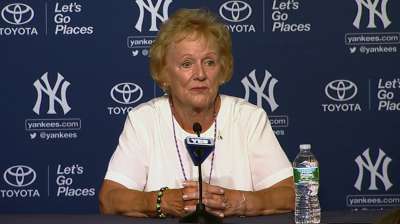 NEW YORK -- On Dec. 14, 2012, tragedy struck Newtown, Conn. The small Connecticut town lost 26 citizens -- 20 of them children -- to a horrific shooting at Sandy Hook Elementary School, and its residents have been grieving ever since.
But Newtown's first Selectman Pat Llodra said the community she loves needed to find ways to come together and celebrate, find enjoyment again.
So the Yankees decided to help. Sunday was Newtown Day at Yankee Stadium, and Llodra and more than 4,000 Newtown residents were in attendance for New York's game against Baltimore.
"We're really happy to be celebrating together," Llodra said. "Newtown and Sandy Hook, this section of Connecticut is very much Yankee land, so we're very excited about being here. The organization has been incredibly generous and kind to us."
The Yankees displayed the names of all the victims on the video board during a moment of silence prior to the game, and the Newtown Youth Voices choir sang the national anthem to a standing ovation from the crowd. The Sandy Hook Fire Department and Newtown Police Department also provided a Joint Color Guard.
"The families and the people in that town went through so much," manager Joe Girardi said. "There are still a lot of struggles that this town is going through, and we do whatever we can to give them hope and be there for them. This is something that has scarred their lives forever, and we can't forget that."
The events of that day will never be forgotten, and Llodra said her community is beginning to learn how to make that tragedy part of its identity as a town.
For the Yankees, Sunday was simply about trying to uplift a community that's suffered too much heartbreak.
"I can't imagine what they've been through the past several months. I have two little boys that mean everything in the world for me," center fielder Brett Gardner said. "It's nice that we can bring them out here and hopefully lift them up for a day, put a smile on their face. Let them have a little bit of fun."
Josh Vitale is an associate reporter for MLB.com. This story was not subject to the approval of Major League Baseball or its clubs.