Hot bat keeps Wells in Yankees' lineup
Hot bat keeps Wells in Yankees' lineup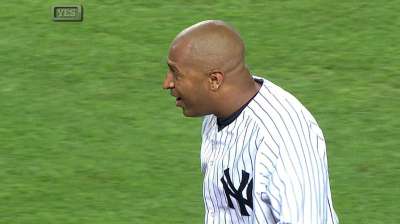 NEW YORK -- By the end of June, Vernon Wells' red-hot start had become a distant memory. His .232 batting average on June 30 had only been worse once since Opening Day. He looked lost against righties, and any semblance of power potential had vanished from his bat.
In July, things have suddenly turned around. Wells' average is back up to .241 and his slugging percentage is at .378. He's once again become not only a staple in the lineup, but one of the Yankees' most reliable bats.
"I don't see a whole lot different," manager Joe Girardi said. "It could be a little bit of pitch selection, laying off the pitch that's below the zone, but I know he worked very hard with [hitting coach] Kevin [Long] in the time that he wasn't playing a lot, and it's seemed to pay off. He's been swinging the bat good."
Wells was in the lineup for the third straight day Saturday and served as the designated hitter for the second game in a row. He's collected a hit in six of the nine games he's played in July and has five multi-hit games in the month.
But it's no secret Wells has struggled against right-handers. Wells entered Saturday batting just .211 against righties this year compared to .294 against left-handers. Saturday seemed a perfect day to run designated hitter Travis Hafner back out into the lineup against Twins righty Sam Deduno. Hafner's fully healthy, but Girardi is sticking with the hot-hitting Wells.
"Vern's been putting up good at-bats," the manager said. "Right-handers have hit this guy better than lefties, so I thought I'd go with Vern."
Hafner is ready to play whenever he gets the call, and Girardi assured that the slugger will get back into the lineup -- Hafner hasn't played since an 0-for-2 on June 10 -- even as he's mired in a slump. His raw power is too valuable, as is his ability to hit righties on the more consistent basis that Wells cannot. But for now, it's still Wells' turn.
"I'm going to run him back out there," Girardi said of Hafner. "It's just Vern's been swinging the bat well and I'm going to leave him out there."
David Wilson is an associate reporter for MLB.com. This story was not subject to the approval of Major League Baseball or its clubs.