Gardner details momentum behind epic walk
Gardner details momentum behind epic walk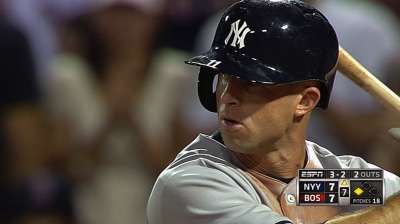 ARLINGTON -- Brett Gardner guessed that he spent about "2 1/2, three minutes" standing at Fenway Park's home plate on Sunday evening, waging an epic 15-pitch battle against the Red Sox's Junichi Tazawa.
Informed that the plate appearance actually spanned nine minutes before Gardner took the 15th pitch outside for a walk, the Yankees outfielder grinned at the evidence of a job well done.
"It's probably one of the longest, if not the longest, in my career," Gardner said. "I've had a couple of other ones that were pretty close to that. I didn't realize it was 15 pitches; I thought it was more like 12. I was just locked in and trying to put a ball in play, and only swing at strikes."
The plate appearance did not result in a run for the Yankees, as Ichiro Suzuki grounded back to the pitcher's mound for the final out, but it did succeed in tiring out Tazawa. Gardner said that when an at-bat generally gets that deep, the hitter takes the lead.
"I think once an at-bat gets to seven or eight pitches, I think the hitter has the advantage," Gardner said. "You've shown me all of your stuff. We've seen nine pitches and you haven't gotten me out yet. I've always heard people say that in a 3-2 count, the pitcher has the advantage, but I feel like in a 3-2 count, the hitter has the advantage.
"I've never really minded hitting deep in the counts. I feel like when you see that many pitches, you've got a good idea how the ball is coming out of his hand, timing him up. If you've seen that many pitches, you're close to squaring something up."
Bryan Hoch is a reporter for MLB.com. Follow him on Twitter @bryanhoch and read his MLBlog, Bombers Beat. Adam Berry, a reporter for MLB.com, contributed to this story from Tampa, Fla. This story was not subject to the approval of Major League Baseball or its clubs.