Jeter won't return Saturday, will play simulated game
Jeter won't return Saturday, will play simulated game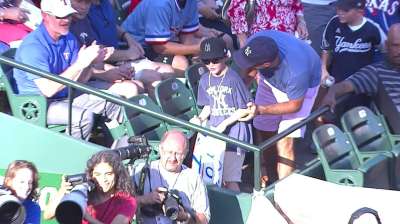 NEW YORK -- Derek Jeter always bubbles with enthusiasm and optimism. But on Saturday, the first day he's eligible to come off the disabled list, he will participate in a simulated game, the Yankees announced after Friday's 10-6 loss to the Rays.
Still, Joe Girardi seems pleased with Jeter's progress.
"He feels great, " the Yankees manager said. "Shocker.
"It's really a stupid question for me to ask."
The shortstop has been working with the team since he went on the DL, both on the road and on Friday at Yankee Stadium. He did the same thing he did on Thursday -- "I walked in, I got treatment, came outside, and now I'm supposed to go back in," he said while leaving the field. "Whatever they tell me."
"He is now doing a lot of different baseball activities," general manager Brian Cashman said.
Jeter is eligible to come off the DL on Saturday and before the game he said he feels "fine" and is, as usual, "always hopeful."
But with news of the sim game -- the time and place are still yet to be announced -- his return will have to wait until Sunday, at the earliest.
David Wilson is an associate reporter for MLB.com. This story was not subject to the approval of Major League Baseball or its clubs.