Off DL: Jeter at short, hitting second
Off DL: Jeter at short, hitting second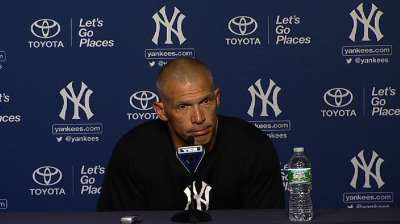 NEW YORK -- Derek Jeter came off the disabled list Sunday, in the No. 2 hole as the Yankees' shortstop for the finale against the Rays at the Stadium.
His return comes one day after playing in a simulated game in Staten Island. Jeter took eight at-bats, ran from first to third and second to home, and took ground balls at shortstop, testing the injured left groin that put him on the shelf.
"It's obviously someone we've been waiting for for a long time," manager Joe Girardi said after New York's 1-0 loss to Tampa Bay on Saturday. "We had him for one day. We won that game, so hopefully his ratio continues."
Jeter began the season on the disabled list after breaking his ankle in the 2012 American League Championship Series. He returned for one game on July 11 and went 0-for-2 with an RBI groundout before straining his right quad, an injury that placed him back on the DL after the All-Star break. Saturday was the first day he was eligible to return.
Girardi also said designated hitter Travis Hafner will head to the DL with a shoulder injury.
The simulated game was part of Jeter's rehab process for the quad injury. There was concern that the Yankees rushed their captain back from his ankle injury, so this time, they made sure he's ready.
David Wilson is an associate reporter for MLB.com. This story was not subject to the approval of Major League Baseball or its clubs.