Yanks bring up Huff for 'pen help; option Betances
Yanks bring up Huff for 'pen help; option Betances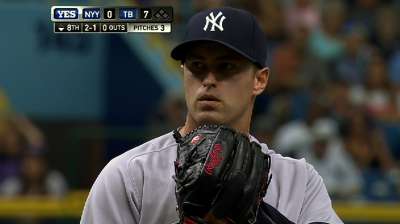 NEW YORK -- With a three-game set at Boston this weekend and a split doubleheader on the schedule for Tuesday, the Yankees were in need of an arm out of the bullpen who could come in against lefties and give them some length.
They'll get that from left-handed reliever David Huff, who the Yankees recalled from Triple-A Scranton/Wilkes-Barre before Thursday's series finale. Manager Joe Girardi said he would consider using Huff as both a long man and a matchup play against left-handed hitters.
Huff was 1-6 with a 3.84 ERA as a starter for the RailRiders this season. He also had a brief stint with New York this year, pitching one inning for the team against the Rays on May 26 after being claimed from the Indians a day earlier.
"I've been working on a lot of stuff in Scranton -- working on a breaking ball, working on a cutter," Huff said. "Now to finally have these things better than they have been in the past, it's kind of nice coming up here and seeing how it plays out."
Reliever Dellin Betances was optioned to Scranton to make room for Huff. Betances pitched just two-thirds of an inning for the Yankees since being called up on Sunday, giving up four runs on five hits in Tuesday's 14-7 win over the Angels.
"I feel bad on the terms I came up with, with Dellin going back down," Huff said. "I was really looking forward to being in the bullpen with him, because we've been together for as long as I've been here. It kind of [stinks], but he'll be back up here. I know he will. He's got good stuff."
The Yankees also transferred pitcher David Phelps from the 15-day disabled list to the 60-day DL as part of the move. Phelps first went on the DL on July 5 with an elbow strain, and he was diagnosed with another elbow strain on Aug. 6.
Phelps is eligible to return from the disabled list on Sept. 4, and Girardi said he expects the right-hander to pitch for the Yankees again this season.
"He's not going to pick up a ball again for a while like he did before," Girardi said. "Sept. 4 probably isn't realistic anyway, for him to come back. So it was a pretty easy move."
Huff -- who has a 13.50 ERA over four innings between the Indians and Yankees this season -- said he's excited to be back in the Majors, especially given the way the team has played over its past few games.
"As an organization, they're always making a playoff push, always going deep in the playoffs," Huff said. "For me, I'm not used to it, because I was with Cleveland. It's exciting. It's bringing out a different animal."
Josh Vitale is an associate reporter for MLB.com. Chris Iseman is an associate reporter for MLB.com. This story was not subject to the approval of Major League Baseball or its clubs.