Girardi vocal before Dempster's suspension
Girardi vocal before Dempster's suspension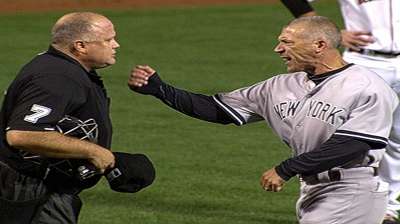 NEW YORK -- Joe Girardi did not feel the need to take his comments much further on Tuesday, following Major League Baseball's announcement of a five-game suspension and fine for Red Sox right-hander Ryan Dempster. The Yankees' manager believes he has already made his feelings quite clear.
Girardi referred to comments he made during a heated news conference after Sunday's 9-6 win at Fenway Park, when he said it was "flat wrong" for Dempster to have thrown at Alex Rodriguez. The manager stated that he would be "really disappointed" if Dempster was suspended in a fashion that might allow him to carry on without missing a start.
The Red Sox have two off-days coming up, so Dempster may not miss any action even if he chooses not to appeal MLB's announcement. Dempster was disciplined for "intentionally throwing at and hitting" Rodriguez in the second inning, according to MLB.
"You just can't throw at someone because you don't like them or you disagree with the way something's being handled," said Girardi, who was also fined an undisclosed sum for arguing with home-plate umpire Brian O'Nora. "They've talked about throwing at people all the time, so you just can't take things into your own hands. It's not right."
Rodriguez was hit with a 92-mph fastball on a 3-0 count in his second-inning at-bat, but Dempster appeared to be throwing at Rodriguez throughout the same plate appearance, including with a first pitch that skipped behind Rodriguez's ankles.
Dempster said he was "trying to pitch him inside." Red Sox manager John Farrell supported his pitcher, saying, "I don't know that he hit him on purpose. I don't think he did." Rodriguez exacted a measure of revenge four innings later, belting a long solo home run to center field off Dempster that sparked a four-run rally.
Yankees left-hander CC Sabathia said that he considered MLB's punishment of Dempster to be "light," but he said it would serve the purpose of reminding pitchers around the league that there are consequences if they throw at Rodriguez.
"I know in this situation, I think he should have gotten longer," Sabathia said. "I don't know about anything else, but given that he threw at Alex four times, he should have gotten longer. ... I thought he at least should miss a start, and he's not going to do that. I don't think it does anything."
Sabathia has generally not been shy about enforcing baseball's unwritten code by throwing inside to hitters at times, but he said that Dempster's actions crossed a line, saying that the veteran right-hander would have been wise to stop throwing at Rodriguez after the first pitch.
"It's definitely a different scenario," Sabathia said. "And even with the unwritten code, you don't throw at a guy four times. He violated every code in every way."
Girardi said that he would support any of his players in this situation, regardless of their alleged activities off the field, and he added that Rodriguez's health was a concern in this case.
"One of the reasons I was so upset is you just can't throw [at people]," Girardi said. "That baseball is a weapon. It's not a tennis ball. It's not an Incrediball that's soft.
"It's a weapon, and it can do a lot of damage to someone's life, and that's why I was so upset about it. You can express your opinion and be upset with someone, but you just can't start throwing baseballs at people. It's scary."
Girardi said that he was concerned that if Dempster had been allowed to get away with hitting Rodriguez, other teams may follow suit.
"It just makes him open season for people, and that can't happen," Girardi said. "It's not fair. If a player is suspended for throwing at someone, they're going to get their appeal. Are we just going to throw that out, too? I mean, this is what's been negotiated."
Bryan Hoch is a reporter for MLB.com. Follow him on Twitter @bryanhoch and read his MLBlog, Bombers Beat. Josh Vitale is an associate reporter for MLB.com. This story was not subject to the approval of Major League Baseball or its clubs.