Rays' farewell gift to 'Sandman' a fitting one
Rays' farewell gift to 'Sandman' a fitting one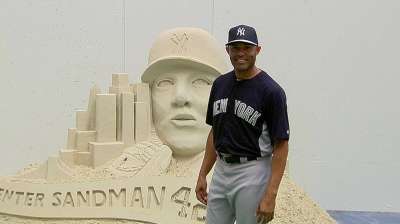 ST. PETERSBURG -- Mariano Rivera crouched in front of his likeness in the rotunda area at Tropicana Field, grinning as he examined one of the most unusual and unique tributes the Yankees' closer has received during his retirement farewell tour.
Enter Sandman, indeed. The Rays unveiled a large sand sculpture depicting Rivera winding up for a pitch, his body and glove surrounded by the Manhattan skyline. The work of art will be on display for fans to see through this weekend's series.
That would be an interesting feat. The sculpture was produced by Meredith Corson and Dan Doubleday of Treasure Island, Fla.-based Standing Ovations, and it took approximately 2 1/2 days to complete.
Corson said that sand from local Florida beaches was trucked to Tropicana Field, and the sculpting was performed in the building, using photographs of Rivera as a guide.
"Obviously, it's not perfect, but you're just trying to get certain features," Corson said. "If you get the lips just right, or the nose right, then you get the idea of who it is.
"We wanted to do him smiling, because we hear he's a really great guy and he smiles a lot, but with the Sandman and [being] the closer, it didn't go along with smiling."
Rays president Matt Silverman also presented Rivera with a check for $3,150 for the pitcher's foundation, representing $50 for each of the 63 saves Rivera has recorded against the Rays during his career.
"He has done it the right way," Rays manager Joe Maddon said. "I came away as a huge fan after the All-Star Game in 2009. He is everything you think he is, and he's the best to ever play his position. The tributes are warranted, and I'm happy for the guy.
"He is the best. He's been doing it since he came into the league. I think he's the biggest reason they've dominated for so many years."
The Rays also had a special video tribute planned for Rivera before Friday's series opener.
"The ideas have been creative," Yankees manager Joe Girardi said. "It's been fun for us to watch. The cities have been good to Mo."
Rivera shared a moment with the sand sculptors before Friday's game, expressing his appreciation for their art.
"I just know he's a really great guy -- that's what everybody says," Corson said. "I mean, he has to be for a Yankee to be [honored] in this building; he has to be a really good guy. And we did get to meet him, and he seems like a really nice man."
Bryan Hoch is a reporter for MLB.com. Follow him on Twitter @bryanhoch and read his MLBlog, Bombers Beat. This story was not subject to the approval of Major League Baseball or its clubs.