Girardi: Yanks as 'whole' as they've been all year
Girardi: Yanks as 'whole' as they've been all year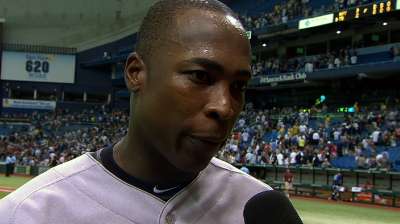 TORONTO -- It took until game No. 131, but manager Joe Girardi was finally able to scribble his signature at the bottom of a lineup card that closely resembled what the Yankees had anticipated this spring.
Derek Jeter's activation off the disabled list marked the first time this season that he and Alex Rodriguez have played together, and the Yankees also have Curtis Granderson healthy following his two stints on the DL.
"It's probably as whole as we've been all year long," Girardi said. "We've had guys in and out of the lineup for different periods, but this is probably as whole as we've been."
Changes have obviously been made along the way; Monday's first baseman, Lyle Overbay, was a last-minute addition this spring when Mark Teixeira's season was in jeopardy, and Alfonso Soriano was acquired from the Cubs in late July.
By and large, Girardi is pleased with the look of the batting order. He added that this time the Yankees won't necessarily have to consider Jeter a savior, as they did in July.
"We had lost Tex and Grandy for the second time and [Jeter] was the guy who was closest, and we were struggling," he said. "We weren't hitting any homers right-handed, and there was a lot of excitement [about Jeter's return].
"Now we've gotten a lot of other guys back, and it's just more that you're adding another good piece to the puzzle."
Bryan Hoch is a reporter for MLB.com. Follow him on Twitter @bryanhoch and read his MLBlog, Bombers Beat. This story was not subject to the approval of Major League Baseball or its clubs.