Yanks playing the hot hand with Reynolds at first
Yanks playing the hot hand with Reynolds at first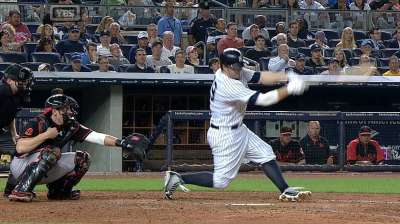 NEW YORK -- When right-handed-hitting Mark Reynolds first joined the Yankees on Aug. 16, he was put into a platoon at first base with left-handed hitter and incumbent starter Lyle Overbay.
But in Friday's 8-5 victory over the Orioles, Reynolds started against right-hander Miguel Gonzalez and batted seventh, not Overbay. Reynolds has been the more productive hitter recently, and manager Joe Girardi said he wanted to keep the hot hand in the lineup.
Reynolds awarded his manager's confidence on Friday, going 3-for-4 with an RBI and a run to notch his second consecutive three-hit game.
"He made a little adjustment in his swing, he swung the bat really good the other night and he's swung the bat pretty good for us," Girardi said. "I just kind of see, with the adjustments Mark has made, he can be extremely productive. Because we've seen him get extremely hot. ... That would be huge for us."
Reynolds is batting .316, two home runs and seven RBIs since joining the Yankees two weeks ago, and he went 4-for-8 in two games against the Blue Jays this week.
Overbay is batting just .190 with no home runs and one RBI over the same two-week period -- though he did miss two games against the Rays with flu-like symptoms -- and he was hitless in seven at-bats in Toronto.
"As I told Lyle, I'm just going to see what happens. It doesn't mean that [Overbay] won't play tomorrow, because he very well could be back in there tomorrow," Girardi said.
"But we've seen Mark get really hot, he's swinging the bat well right now and let's just see what happens."
Josh Vitale is an associate reporter for MLB.com. This story was not subject to the approval of Major League Baseball or its clubs.