Robertson not pleased with poor outing
Robertson not pleased with poor outing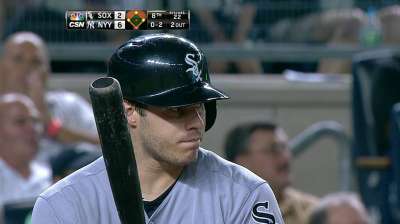 NEW YORK -- When David Robertson entered Wednesday's game against the White Sox, the Yankees led by five runs. When Robertson walked off the field five batters later, New York led by just one and Mariano Rivera was coming in to try to convert a four-out save.
The Yankees setup man allowed two inherited runs to score then allowed two more of his own to cross home plate in the eighth inning, pitching just one-third of an inning and giving up two runs on three hits and a walk on 20 pitches.
Rivera picked up the save as the Yankees capped off a series sweep of the White Sox with a 6-5 victory, but Robertson made the game a lot closer than it could have been.
"That's definitely what I don't want to do," Robertson said. "I don't want to come into a game like that, turn around and make it to where it's a one-run ballgame. I stunk out there, and Mo had to come pick me up. It happens. You pitch in 65, 70 games a year, you're going to have a couple bad ones. Tonight was one of them."
Yankees starter CC Sabathia came out to start the inning, recording one out and giving up two singles before being removed from the game after 111 pitches.
Right fielder Avisail Garcia drove in one of those inherited runners, tagging Robertson for an RBI single through a hole in the left side of the infield. Robertson then got first baseman Jeff Keppinger to fly out to right for the second out of the inning before walking left fielder Dayan Viciedo.
Catcher Josh Phegley and third baseman Marcus Semien followed Viciedo's walk with back-to-back RBI singles to center, ending Robertson's night as Rivera came in to record the final out of the frame.
"It's just one of those days," Robertson said. "It just seemed like every pitch I made was too short or too low or right down the middle and it got hit. It's a tough outing. But like I said, you pitch in enough games and you're going to get knocked around in some of them."
There was some controversy during Keppinger's at-bat, as home-plate umpire Tim Welke said Keppinger fouled off a pitch that would have been the third strike. Replays showed Keppinger did not tip the ball, and Robertson lobbied for Welke to check the ball.
"He ended up getting the guy out, so I don't think [he was affected by it]," manager Joe Girardi said. "But I was."
Robertson had only pitched one time in the last nine days entering Wednesday's game, and his appearance against the White Sox was his first since Friday.
For the season, Robertson is 4-1 with a 1.88 ERA.
"We brought in guys that have done the job all year, and they eventually got it done," Girardi said. "But it probably got a little closer than all of us liked."
Josh Vitale is an associate reporter for MLB.com. This story was not subject to the approval of Major League Baseball or its clubs.