Logan's elbow ailing; Robertson has shoulder tendinitis
Logan's elbow ailing; Robertson has shoulder tendinitis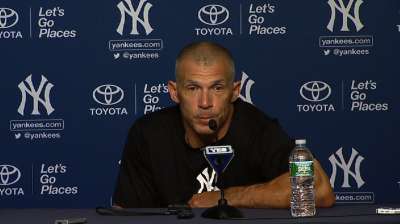 NEW YORK -- The Yankees' bullpen was already shorthanded entering Friday night's game against the Red Sox. Closer Mariano Rivera was unavailable after pitching three days in a row, and Shawn Kelley was on the shelf with inflammation in his triceps.
By the end of the game, it was even more shorthanded. Boone Logan left Friday's game after feeling something in his elbow, and manager Joe Girardi revealed after the game that setup man David Robertson has shoulder tendinitis and could be unavailable for the next five or six days.
The Yankees' bullpen cost them what could have been a crucial victory on Friday. New York led Boston by five runs entering the seventh inning, but four Yankees relievers combined to give up nine runs on nine hits over the next two innings as the Red Sox stormed back to capture a 12-8 victory.
New York relievers have now pitched nine innings over two games against Boston in this series, giving up 15 runs on 21 hits and seven walks.
"We suck," Logan said. "We're scoring a lot of runs, starters are giving us their best and it's our job to lock it down. With that kind of lead, later in the innings, it's [unacceptable] for it to happen, for us to do that."
Logan entered Friday's game with one out and the bases loaded in a four-run game in the seventh inning. After striking out designated hitter David Ortiz to record the second out of the inning, Logan gave up a game-tying grand slam to first baseman Mike Napoli.
The left-hander said he felt something in his elbow after the second or third pitch to Napoli. After giving up a single to right fielder Daniel Nava in the next at-bat, Logan left the game accompanied by a trainer.
Girardi said Logan will get an MRI on Saturday. Logan said "my mind got on the elbow" and it did affect him when he was pitching to Napoli.
"I just felt a little tightness kick in two or three pitches in to Napoli," Logan said. "I wasn't going to do anything about it at the time, I was just trying to finish the at-bat and try to get out of that inning, but that didn't happen."
The game was still tied entering the eighth inning, and Girardi had already said Robertson might not be available on Friday because he had pitched in back-to-back games. But Girardi revealed after the game that Robertson came to the stadium complaining of soreness in his shoulder, and an MRI showed tendinitis.
Robertson said he first felt the soreness after he came out of Thursday's game and still felt it when he woke up Friday morning. Robertson said he's going to take a few days off before trying to play catch and throw a bullpen session.
"Pretty much the worst timing ever," Robertson said. "It stinks. I want to be out there. I felt really good last night. I pitched really well and I was hoping to be able to throw today. When I got to the ballpark, I couldn't do it."
Instead of Robertson in the eighth, the Yankees went with Preston Claiborne and Joba Chamberlain, who combined to give up four runs on four hits and three walks. Claiborne took the loss in the game, giving up a go-ahead, two-run home run to center fielder Shane Victorino.
Matt Daley, who pitched the ninth inning after having his contract purchased from Triple-A Scranton/Wilkes Barre before the game, was the only Yankees reliever who didn't allow a run.
Phil Hughes made his first appearance as a reliever since 2011 after being demoted to the bullpen on Tuesday, allowing three hits and four runs over one-third of an inning and leaving the bases loaded for Logan.
"My stuff was flat, and my command wasn't very good," Hughes said. "So it was just a terrible inning. And this time of year, terrible innings cost you big time. So it's just a rough night all around."
Rivera will likely be available on Saturday, but Robertson, Logan and Kelley won't be, and Claiborne and Chamberlain might not be either after pitching two nights in a row. Without them, Girardi would be left with just Hughes, Daley, Adam Warren, Dellin Betances, Cesar Cabral and Brett Marshall out of the bullpen.
"It's an opportunity for these other guys to shine," Girardi said, "and they're going to have to do it."
Josh Vitale is an associate reporter for MLB.com. This story was not subject to the approval of Major League Baseball or its clubs.