After missing seven games, Kelley pitches
After missing seven games, Kelley pitches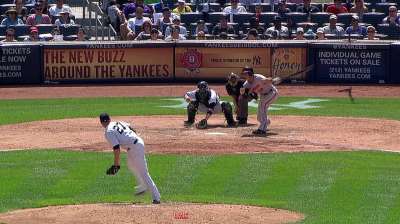 NEW YORK -- After missing seven games with triceps inflammation, Shawn Kelly was back on the mound for the Yankees on Sunday.
The right-handed reliever threw a scoreless seventh inning in the Yankees' 4-3 victory over the Red Sox, giving up two hits and striking out one.
"I knew I felt good. I was a little worried if, stuff-wise, the feel would be there, given the time off," Kelley said. "But I felt like I was right back where I left off."
Kelley gave up a one-out single to center fielder Jackie Bradley Jr. and a two-out single to left fielder Jonny Gomes, giving the Red Sox runners on first and third for second baseman Dustin Pedroia. But Kelley got Pedroia to ground out to shortstop, ending the threat.
"With the situation and everything, once I got out there I was like, 'Man I just got to put a zero up here somehow,'" Kelley said. "I was just firing away and trying to get outs."
Kelley said his arm had felt "tight" when he left the game after the last few times he pitched, but his arm felt much better after Sunday's game.
"I feel great right now, and I expect to be out there back-to-back or three in a row if they need me," Kelley said. "I think we cleared up whatever it was."
David Robertson and Boone Logan were not available for the Yankees on Sunday, as both are still recovering from injuries. Robertson was diagnosed with shoulder tendinitis after pitching against the Red Sox in Thursday's loss, and Logan was found to have inflammation around his elbow after leaving Friday's game against the Red Sox.
Manager Joe Girardi said they would both get three complete days off before playing catch -- if they're ready to -- on the fourth day, and then the Yankees would go from there. On that schedule, Robertson would be able to play catch on Monday and Logan on Tuesday, and Girardi said he hoped one or both would be available sometime during the team's four-game series with the Orioles.
Logan wasn't sure if he would be ready to return in Baltimore. The left-hander said he received a cortisone injection in his arm on Saturday, which he said usually takes a couple of days to work. Asked if he would be available for the Yankees' series in Boston on Friday, Logan said it "would be nice."
Josh Vitale is an associate reporter for MLB.com. This story was not subject to the approval of Major League Baseball or its clubs.