Yanks: Consider Jeter day to day for rest of '13
Yanks: Consider Jeter day to day for rest of '13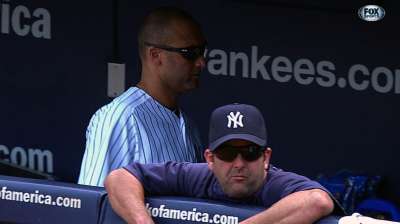 BALTIMORE -- Yankees captain Derek Jeter remained in a "holding pattern" on Tuesday, according to manager Joe Girardi, and did not participate in baseball activities for a third consecutive day.
Jeter is continuing to receive treatment on a sore left ankle, and the Yankees have given no timetable for Jeter's return to the lineup. He was removed from Saturday's 13-9 loss to the Red Sox and had a CT scan, which was negative.
"I think he's making progress, but we just feel like it's not time yet," Girardi said.
Jeter, who is batting .190 with one home run and seven RBIs in 17 games this season, has not spoken publicly since before Saturday's game.
Yankees general manager Brian Cashman said that the club is still waiting to hear back from Dr. Robert Anderson, the Charlotte, N.C.-based specialist who performed Jeter's October ankle surgery.
Anderson has been sent a copy of Jeter's CT scan for review, but Cashman said that Anderson's diagnosis was not holding up the Yankees in any way because they are confident in team physician Dr. Christopher Ahmad's assessment.
"The bottom line is, his mobility was definitely becoming more limited with the pain he was receiving, so we backed off," Cashman said. "And when he's feeling better, we'll turn him loose again."
Girardi said that Jeter, who typically detests missing games, understands that he needs to rest in order to allow his ankle to get stronger and feel better.
He added that it is "fair to say" that the Yankees will consider Jeter day to day for the rest of the season, and cannot say for sure if Jeter actually will return.
"It's just hard, because we want him to feel good about going out there and not having some pain -- being able to move the way we need him to move and the way he wants to move," Girardi said.
Cashman reiterated that there has been no consideration given to shutting Jeter down for the year.
"We don't think that. It's nothing like that," Cashman said. "If it becomes that, I'll tell you, but otherwise we're more in a day-to-day mode."
Bryan Hoch is a reporter for MLB.com. Follow him on Twitter @bryanhoch and read his MLBlog, Bombers Beat. This story was not subject to the approval of Major League Baseball or its clubs.