Catcher Romine progressing from concussion
Catcher Romine progressing from concussion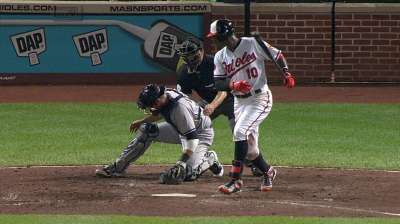 BALTIMORE -- Yankees catcher Austin Romine continues to feel improvement after suffering a concussion earlier this week, but there is no set timetable for his return to action on the field.
Romine was struck in the face mask by an Adam Jones foul tip in the seventh inning of Tuesday's 7-5 Yankees win over the Orioles.
"Every day I keep waking up, it's a lot better; I'm not feeling as much of the symptoms," Romine said. "The headache's gone, my neck's not sore, but I think there's still stuff we need to take care of."
Romine was scheduled to take an ImPACT test on Thursday, an examination that includes a lengthy series of memorization activities with shapes and numbers.
"It's kind of fun, but then after taking it a bunch of times, it's really tedious," Romine said. "But it's something you've got to do in order to play again."
The catcher said that he also suffered a concussion in a 2011 home-plate collision, saying that was worse because he had hit his head on the ground.
While this is his second confirmed concussion, Romine is not certain that he has not had others.
"Let's be honest, I'm a catcher, Romine said.
Bryan Hoch is a reporter for MLB.com. Follow him on Twitter @bryanhoch and read his MLBlog, Bombers Beat. This story was not subject to the approval of Major League Baseball or its clubs.