Romine's return from concussion delayed
Romine's return from concussion delayed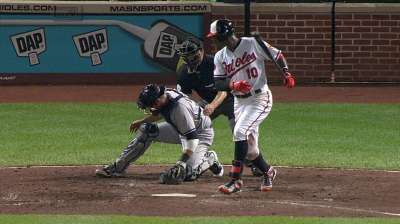 TORONTO -- Catcher Austin Romine, who is still feeling the effects of a concussion he sustained last week, was scratched from Tuesday's lineup against the Blue Jays.
Manager Joe Girardi thought that Romine had passed his concussion-related tests and was ready to return to action, but found out shortly after the team posted its lineup that the catcher was unable to play.
Chris Stewart started in place of Romine, who last played Sept. 10.
"He went through his drills and said he felt good," Girardi said. "I was under the assumption he was ready to go, but he's not quite ready to go. I should have asked."
It sounds like Romine will be ready shortly, possibly sometime this week, but Girardi will not rush him back into the lineup. Girardi said he was not available as a pinch-hitter or defensive replacement, either.
"If he's not ready to start, I wouldn't play him," Girardi said.
J.R. Murphy, who has made just five at-bats over seven games, will continue to serve as New York's backup until Romine is ready to return to action.
Chris Toman is a contributor to MLB.com. This story was not subject to the approval of Major League Baseball or its clubs.