Yanks honor Latino Baseball HOF members
Yanks honor Latino Baseball HOF members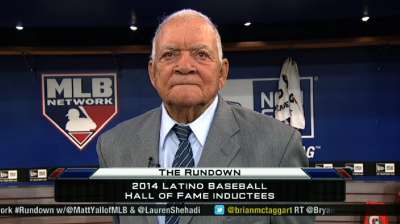 NEW YORK -- The Yankees held a pregame ceremony on Friday to honor some of the members of the Latino Baseball Hall of Fame's Class of 2014, continuing their celebration of Hispanic Heritage Month.
Former Yankee Felipe Rojas Alou, a 2010 inductee into the Latino Baseball Hall of Fame, was on hand to help recognize 2014 inductees Bert Campaneris, Omar Moreno, Osvaldo Virgil and Moises Alou.
The Yankees will host another pregame ceremony on Saturday, when the Hispanic Heritage Baseball Museum Hall of Fame will induct former Yankees pitcher Vernon "Lefty" Gomez.
"These two great Hall of Fame institutions honor the rich history of our national pastime, with a particular focus on the undeniable impact of the Latino ballplayer," Manuel Garcia, the Yankees' director of Latino Affairs, said in a statement. "As our fans know and appreciate, the Yankees and tradition go hand in hand, which is why we are honored to celebrate the accomplishments of these legendary athletes."
Earlier this month, Latinobaseball.com honored closer Mariano Rivera with the 2013 Yankees Latino MVP Award, and the Yankees Foundation gave scholarships to the winning teams of the 2012 Mariano Rivera and Robinson Cano Youth Baseball Tournaments (hosted by the Dominican Sports Foundation of New York), as well as to five students from the League of Puerto Rican Women.
Josh Vitale is an associate reporter for MLB.com. This story was not subject to the approval of Major League Baseball or its clubs.