Girardi hopes A-Rod can return to hot corner
Girardi hopes A-Rod can return to hot corner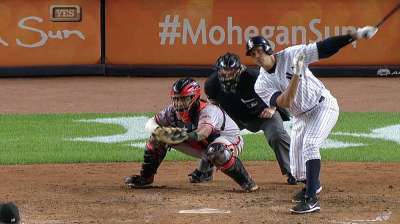 NEW YORK -- Joe Girardi is hoping he'll be able to pencil Alex Rodriguez in at third base sometime soon, but the Yankees manager still isn't sure when that might happen.
Rodriguez, who was the Yankees' designated hitter on Saturday, has been limited to the DH role for 10 consecutive games since leaving a Sept. 11 game with left hamstring tightness and leaving Sunday's game with a tight right calf.
"I've just kind of been taking it day by day, series by series. I'm thinking that we'll get through this weekend and see where we are," Girardi said. "Hopefully he's available to us. If he's not, I'll just continue to do what we're doing."
Girardi said after Friday's game that Rodriguez looked like he was running "more freely," while Rodriguez said that his legs were feeling better and hopes he can play third base again soon.
"I'll have a conversation here with Joe hopefully in the next day or two," Rodriguez said. "I can get out there and make our lineup a little bit deeper."
Girardi said being able to put Rodriguez back at third base would give him more flexibility in putting together the lineup, because he could give other players a day at DH. Girardi also said he likes the experience Rodriguez brings to the position.
Mark Reynolds and Eduardo Nunez have been splitting time at third base while Rodriguez has been limited to DH duties.
Josh Vitale is an associate reporter for MLB.com. This story was not subject to the approval of Major League Baseball or its clubs.