Yankees to honor Mo on uniforms, hats
Yankees to honor Mo on uniforms, hats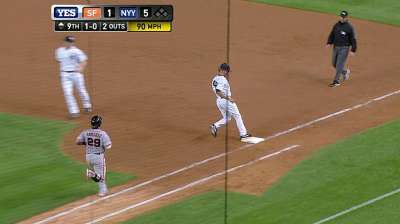 NEW YORK -- It's not often teams wear a patch to honor an active player, but that's what the Yankees will do during their final four home games this season.
Beginning with Sunday's game against the Giants, the Yankees will wear "Mariano Rivera Final Season" patches on the left sleeves of their jerseys and on their caps. They will also wear the patches during their three-game series with the Rays that will run Tuesday through Thursday.
The Yankees players haven't seen the patches yet, but they'll get a nice surprise on Sunday when they see the new uniforms hanging in their lockers.
The patch features a photo of Rivera jogging out of the bullpen, showing the No. 42 on his back. It also has his name and the years he's been in the big leagues (1995-2013) embroidered on it.
The first day of the Yankees wearing the patches coincides with Sunday's pregame ceremony to honor Rivera, who will retire at the end of the season. The club hasn't revealed much about the events of the pregame ceremony, but it has said that Monument Park will be closed to fans on Sunday and requested that fans be in their seats by no later than 12:30 p.m. ET for the 1:05 p.m. game.
Rivera said he doesn't know what the Yankees have planned for him on Sunday.
"I can't tell you anything about tomorrow," Rivera said. "After tomorrow, we talk about it. But right now, I don't know how it's going to be."
Sunday will also mark Andy Pettitte's final start in Yankee Stadium. The veteran left-hander announced on Friday that he would also retire at the end of the season, marking something of an end of an era for the Yankees.
"It's the end of us, yes," Rivera said. "It happens. You should know that this is not forever. The time will come, and that time has arrived. You have to embrace it and move on."
"These are two tremendous Yankees that have meant so much to this organization. Unfortunately, this game comes to an end for all of us," manager Joe Girardi said. "It's hard to see guys go, but I've always talked about how the reality really doesn't set in until you don't see them in uniform. I think tomorrow will be extremely special for both of them, and I'm looking forward to it."
Josh Vitale is an associate reporter for MLB.com. This story was not subject to the approval of Major League Baseball or its clubs.