Mo overcomes ACL tear to return for final season
Mo overcomes ACL tear to return for final season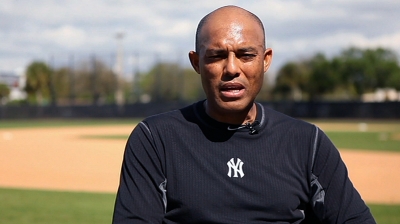 As Mariano Rivera prepares to retire, the closer's farewell tour has become a central subplot to the season. Major League Baseball's all-time saves leader has been greeted warmly in each of his road stops, and the Yankees held a ceremony of their own to honor Rivera's illustrious career on Sunday.
Rivera will be the last active player to regularly wear uniform No. 42, with the number having been retired throughout MLB in 1997 to honor the achievements of barrier-breaking great Jackie Robinson. During his 19-year big league career, Rivera has also chiseled his own mark on the number's legacy. In honor of Rivera and his contributions, MLB.com is commemorating 42 notable moments from Rivera's career -- the 42 Days of Mo.
Mariano Rivera swore he wasn't going down like that.
The game's greatest closer promised that his last act on a Major League field wouldn't be writhing in pain at Kauffman Stadium after tearing his ACL in May 2012.
And he was right. Rivera entered again on April 4.
Eleven months and one day after a tumble in Kansas City's outfield ended Rivera's season, the 42-year-old legend returned under the bright lights of Yankee Stadium with Metallica's "Enter Sandman" blaring.
It wasn't vintage Rivera. He issued a leadoff walk to Boston's Dustin Pedroia, who came around to score. But Rivera got rookie Jackie Bradley Jr. looking to notch his first save following surgery.
That save also tied Rivera with John Franco with 18 consecutive years with at least one save.
The Yankees and their fans missed the veteran closer in 2012. And, Rivera admitted, he missed everything about getting the ball in the ninth inning.
"I did miss them a lot," Rivera said. "At the same time, I have to be patient. I couldn't push it, I couldn't rush it. I just had to do things right."
Fittingly, Rivera's return saved a victory for longtime teammate Andy Pettitte, who said the following day it was special to see Rivera once again run out of the bullpen.
"Obviously, I feel real, real secure and good about things whenever you see that guy running in from the bullpen in the ninth inning," Pettitte said. "It's special. It'll be special for me watching him this year and knowing that this is it."
It has been, as Rivera has continued to dominate hitters in 2013 as he has his entire career -- even after seeing it potentially come to an end.
"You wait for almost a year to be on the mound and get your job done," Rivera said. "It's special to be here at home. The love, the passion and drive that you have for the game motivated me to keep going."
Cash Kruth is a reporter for MLB.com. Follow him on Twitter at @cashkruth. This story was not subject to the approval of Major League Baseball or its clubs.