Cashman, Yankees prepare for offseason tasks
Cashman, Yankees prepare for offseason tasks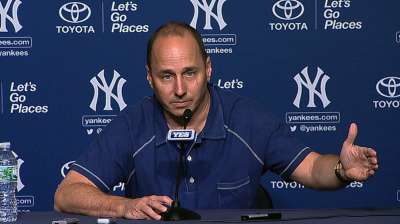 NEW YORK -- In an end-of-season conversation with managing general partner Hal Steinbrenner, Yankees general manager Brian Cashman said that he received a reminder of how large the tasks ahead of the organization will be this winter.
"We have a lot of work to do," Cashman said. "He hasn't given me anything specific other than, 'Here are the issues in front of us, and we've got to tackle them.' Everybody is disappointed that we're not where we want to be, but you've got to be in it to win it and we didn't qualify to be in it."
Cashman said that the Yankees will look at their starting rotation and have to deal with questions at three of their four infield positions, as Robinson Cano prepares to test free agency, Alex Rodriguez handles his appeal of a 211-game suspension and Derek Jeter tries to return from injuries.
The Yankees will start their professional scouting meetings on Monday, which will create the chess board to determine which players they will pursue. Cashman also said that the Yankees have been evaluating the decision making of their player development staff for the last two months.
"We're going through that process," Cashman said. "We haven't had as fruitful results from the Draft here recently as we had hoped and anticipated."
At some point in the near future, the Yankees will also learn how much money they have to spend to assemble the 2014 roster. Steinbrenner has been consistent in stating that he would like the payroll to dip beneath $189 million to take advantage of tax-related incentives.
"The only thing I can confidently tell you is, when the last name is Steinbrenner, the effort is going to be there in terms of making a full push for having the best team on the field you can possibly have," Cashman said.
Cashman reiterated Steinbrenner's position that the figure represents a goal and not an absolute mandate.
"It's a goal that we have and if it's possible, there's a lot of benefits to staying under that," Cashman said. "But it's not a mandate if it's at the expense of a championship."
Bryan Hoch is a reporter for MLB.com. Follow him on Twitter @bryanhoch and read his MLBlog, Bombers Beat. This story was not subject to the approval of Major League Baseball or its clubs.