McCann not looking to assume leadership role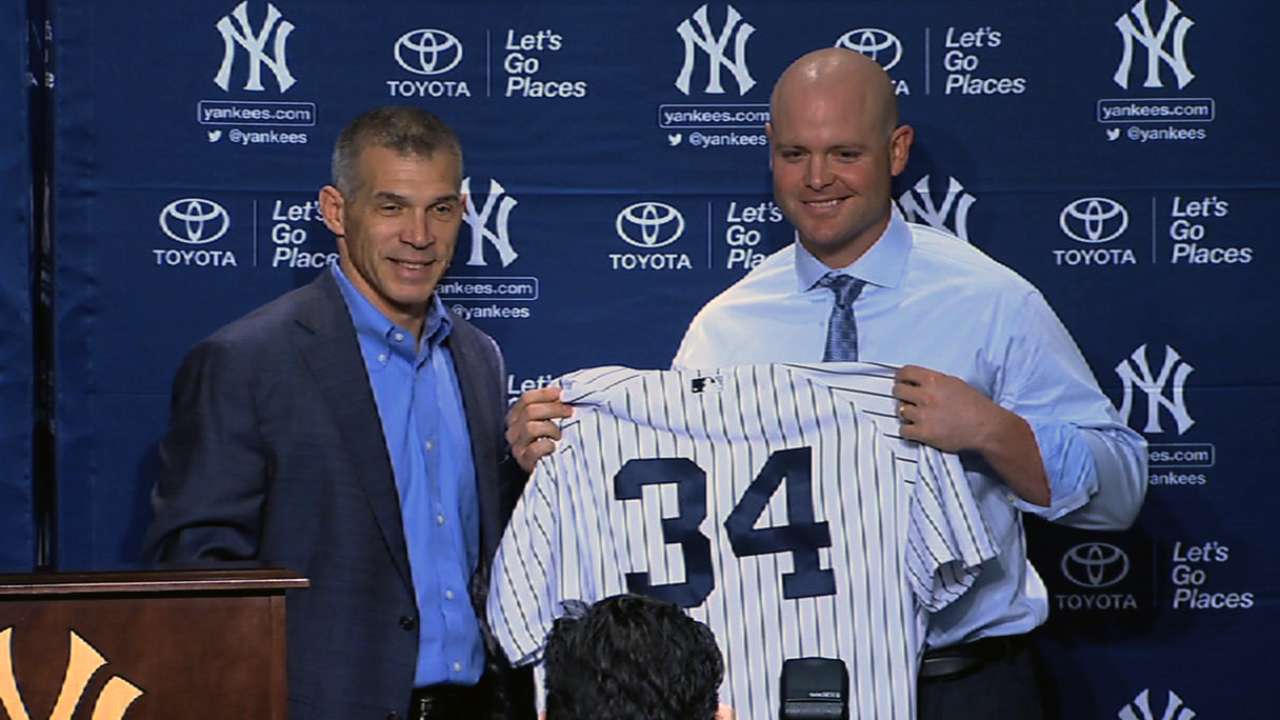 TAMPA, Fla. -- Asked on Friday about all of the new faces in the clubhouse this season, CC Sabathia said he is looking forward to playing with all of them. But he quickly singled out the one new player he's really excited -- "ecstatic," to use his word -- about having onboard: catcher Brian McCann.
"Have you seen him play?" Sabathia asked. "Of course, then. It's exciting to have a guy like that back there, a veteran guy you can bounce ideas off of. And he's going to hit. I think he's going to be great in our ballpark."
McCann, 29, reported to George M. Steinbrenner Field on Friday along with the rest of the Yankees' pitchers and catchers, eagerly anticipating the challenge of learning a new pitching staff after spending his first nine seasons with the Braves. He received an iPad stocked full of video of New York's pitchers and some American League East hitters only a few days after signing his five-year, $85 million deal in November.
"That's the great thing about technology these days," McCann said. "I've seen it. Now I just want to get to know everybody and what their mind-set is.
"It's definitely going to be different. I look at it as a challenge. It's exciting to get to know guys. I've just got to put in extra time, that's it. That's all I'm going to have to do is put some extra time in and get to know the people."
McCann was regarded as a leader in the Braves' clubhouse following Chipper Jones' retirement, but he isn't necessarily looking to take on a similar role with the Yankees.
"I think sometimes that word gets thrown around, like you have to have this or you have to have that," he said. "I'm not a big guy where you're set in your ways. If you can get 25 guys pulling in one direction, you're going to win a lot more ballgames," he said. "I think here you've got veteran guys that know how to play the game. You show up every day and you play hard -- that's a leader to me.
"It's someone that sets good examples for the young guys. Go from there. I just feel like sometimes, when Chipper left last year, it was like, 'We need to have a leader.' But if you get guys that show up and play hard ... If something needs to be said, you say it."
Bryan Hoch and Adam Berry are reporters for MLB.com. This story was not subject to the approval of Major League Baseball or its clubs.