Joba reflects fondly on time with Yankees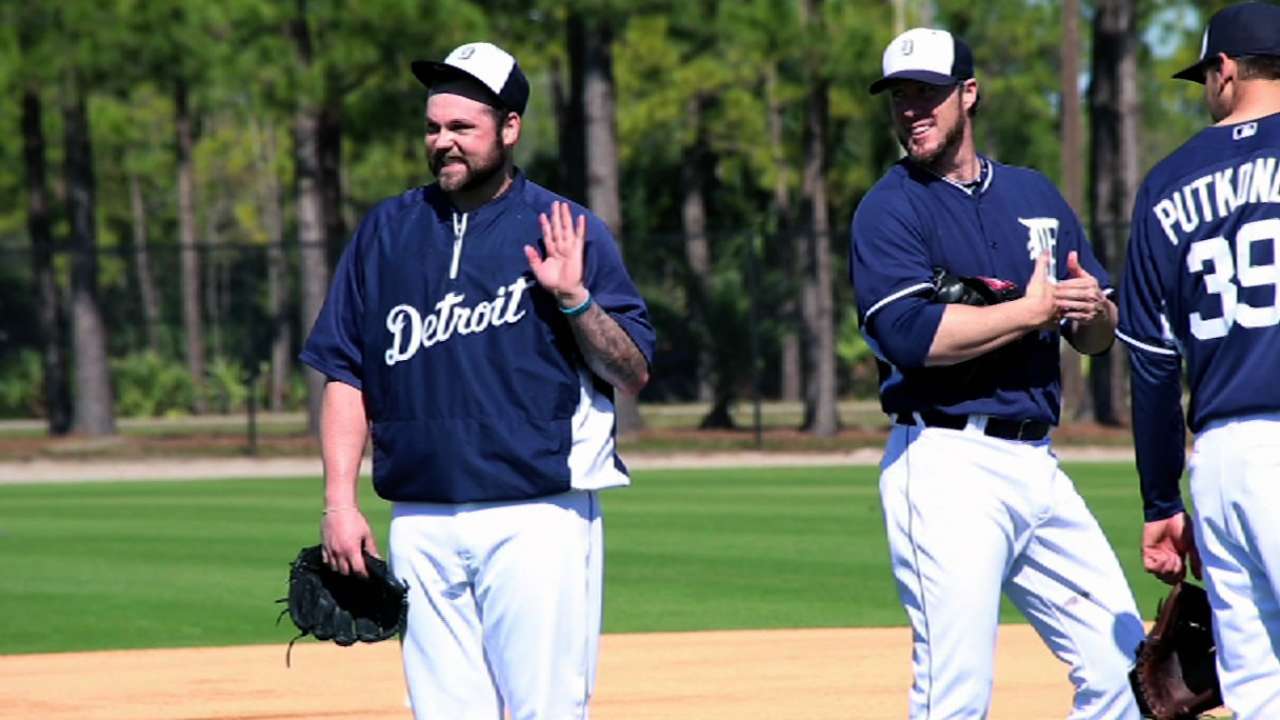 LAKELAND, Fla. -- Getting settled in his new camp this spring, one of the first things that Joba Chamberlain did was peek at the schedule to see when he and the Tigers were going to visit the Bronx.
"It'll be August; yep," Chamberlain said. "Four-game series, Monday through Thursday. I haven't looked, though, in a couple weeks."
Chamberlain, 28, already looks the part of a motivated, freshly-minted ex-Yankee: he is about 20 pounds lighter, sporting a full beard and an amusing tattoo on his pitching arm that transformed a Tommy John surgery scar into a smiley face.
"I got it last year," Chamberlain said. "I guess when you're pitching terrible, nobody notices."
The one-time phenom will try to take advantage of a change of scenery this season as he closes the book on his eventful Yankees career. Chamberlain signed a one-year, $2.5 million deal with Detroit and hopes to serve as the setup man for closer Joe Nathan.
"I spent my whole adult life in a Yankee uniform," Chamberlain said. "My son [Karter] got to see a lot of stuff in New York. New York was home. We closed the old stadium, opened the new stadium, got to win a World Series. You go through the ups and the downs and everything that happened. I'm just so thankful for the opportunity. It was an awesome experience."
Chamberlain burst onto the scene as a rookie callup in 2007, helping Joe Torre's Yankees into the postseason before they ran into the Indians and a swarm of Lake Erie midges.
The Yankees bounced Chamberlain between the rotation and the bullpen for two years before he became a reliever for good in 2010. Reconstructive elbow surgery in '11 and a gruesome '12 ankle injury slowed the right-hander's final years in New York.
"This is a guy who came up and had a ton of success and went through some pretty serious injuries," Yankees manager Joe Girardi said. "It was difficult on him and it was difficult on us because we had high expectations for him. He had some difficult injuries that he had to overcome. It's good to see that he's healthy and feeling good. Maybe it will be good for him."
Perhaps Chamberlain will be remembered most for his "Joba Rules" and the many T-shirts they spawned. Those may now be permanently in storage, but Chamberlain hopes that he will receive a positive reception when the Tigers get to Yankee Stadium.
"I couldn't thank the fans enough," Chamberlain said. "They're a huge part of me being there and the success that I've had. I can only hope for the best. I gave them everything I [had] every time. Sometimes it was short, sometimes I was terrible. I'll be the first one to admit it. But I had a great run and I was very thankful for all the fans that were there."
Bryan Hoch is a reporter for MLB.com. Follow him on Twitter @bryanhoch and read his MLBlog, Bombers Beat. This story was not subject to the approval of Major League Baseball or its clubs.