Diminished velocity doesn't concern CC or Girardi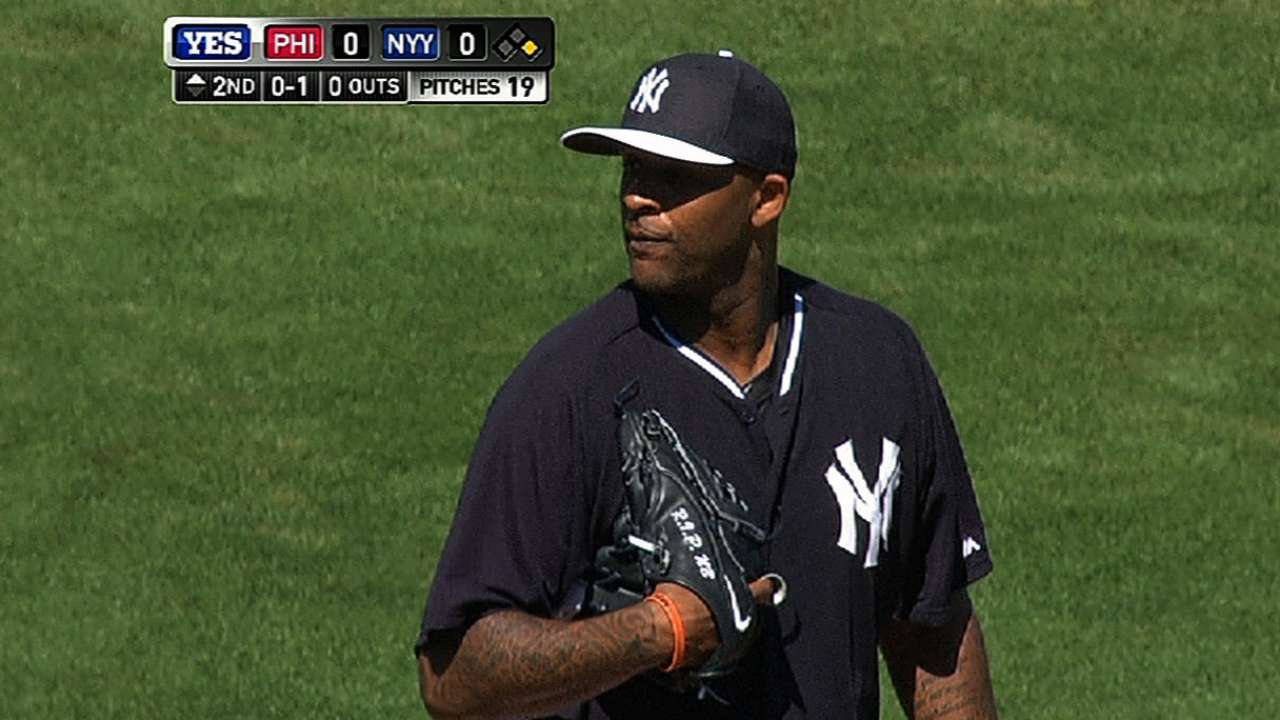 TAMPA, Fla. -- CC Sabathia has grown tired of discussing the diminished velocity of his fastball, so the Yankees left-hander shrugged when he was informed that it had topped out at 88 mph in his first start of the spring.
"My fastball is what it is. If it gets better, it will," Sabathia said. "If it's not, it won't. I can pitch. I'm fine. As long as I'm healthy, I'll be good."
Yankees manager Joe Girardi said that any chatter about Sabathia's velocity does not concern him.
"I don't make much of it," Girardi said. "That was something people wanted to make a ton about last year, and I'm not going to make much of it. To me, if he's downhill and locating, I don't care what his velocity is. He's going to get people out."
Sabathia looked solid as he faced the Phillies for two scoreless innings in Saturday's 4-0 win at George M. Steinbrenner Field, scattering two hits with a strikeout. Sabathia threw 16 of 24 pitches for strikes.
"I thought he looked good," Girardi said. "I loved the downhill plane. His location today, I thought, was really good."
In a conversation with pitching coach Larry Rothschild, Sabathia said that his first outing of the spring felt a lot like his final spring start of 2013, when he was trying to work back from left elbow surgery.
"I'm definitely ahead of where I was last year, so I feel good," Sabathia said. "I'm going to keep working, keep going out there trying to get better."
Girardi said that he saw Sabathia make some late-season mechanical adjustments last year, which have carried into his early work this spring. Sabathia said that he already feels like he has more arm strength. He wants to work on throwing strikes and being around the plate, staying behind his fastball and not allowing it to cut.
"I threw a lot of fastballs last year in the dirt," Sabathia said. "It was just about getting my release point back and getting a good feel. I was able to do that with a football, throwing a football, and then carry that over to the baseball this year in the offseason throwing program, so I feel good."
Bryan Hoch is a reporter for MLB.com. Follow him on Twitter @bryanhoch and read his MLBlog, Bombers Beat. This story was not subject to the approval of Major League Baseball or its clubs.