Girardi not worried about Jeter's spring stats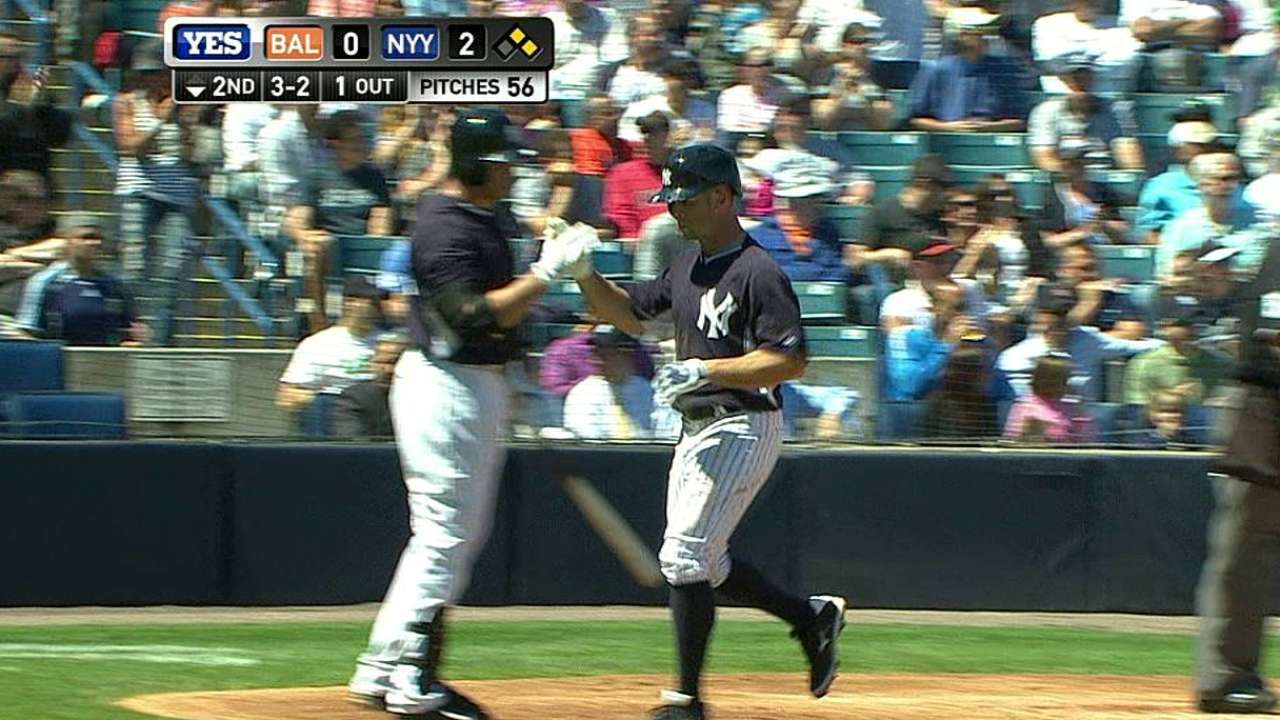 TAMPA, Fla. -- Yankees manager Joe Girardi fielded questions on a number of subjects before and after Thursday's 6-0 split-squad Grapefruit League win over the Orioles at George M. Steinbrenner Field.
On the fact that shortstop Derek Jeter went 0-for-4 against the Orioles and is batting just .167 this spring: "Timing's messed up. I've seen him pull some balls, and that's kind of unusual. Older guys you don't worry so much about early on in Spring Training. I can remember Lou Piniella told me not to worry about Raul Ibanez, that I'd see it in the last week and he'd start to hit. And he was right. Sometimes it just takes those guys a little longer to get going."
On the potential difficulty of finding playing time for Ichiro Suzuki in the crowded Yankees outfield: "Things have a way of working out a lot of times. You just kind of let things sort themselves out before you make statements. Because you never know. We've seen how quickly the landscape can change around here. You try to prepare everyone to be ready to play on Opening Day. That's what I'm trying to do.
"Everything becomes a little trickier on how to do it [if everybody stays healthy]. A lot of it depends on how guys are playing and how he's swinging. So it becomes a little trickier."
On how outfielder Jacoby Ellsbury has managed to keep such a low profile despite signing a seven-year, $153 million free-agent contract: "Our shortstop really helped that out [Jeter announced that he'll retire at the end of the season]. And sometimes, when you're the only guy, the big free agent who comes in, I think it's tougher on those guys. But with the people we've brought in [Masahiro Tanaka, Brian McCann, Carlos Beltran], it's spread around. So it's probably worked out to his advantage. Replay has helped. Collisions have helped out. There's been a lot of stuff to talk about this spring."
On whether that will change once the regular season starts: "Sure will."
Paul Hagen is a reporter for MLB.com. This story was not subject to the approval of Major League Baseball or its clubs.