McCann skipping trip to catch Tanaka, Kuroda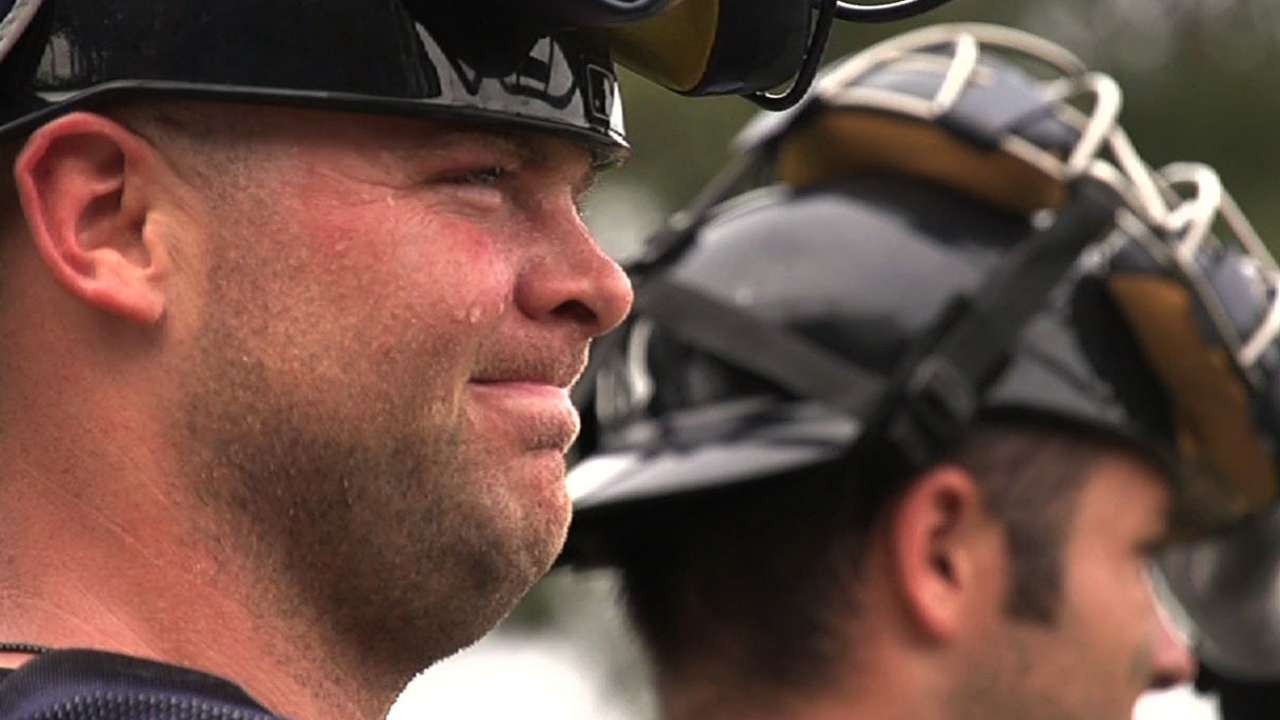 TAMPA, Fla. -- From the moment Brian McCann first heard that the Yankees would be playing in Panama this weekend, he was looking forward to the trip. On Wednesday, McCann was told he would have to stay home.
There were two reasons why manager Joe Girardi decided McCann would not be traveling to Panama: Masahiro Tanaka and Hiroki Kuroda.
Tanaka is scheduled to face the Braves in Tampa on Sunday and Kuroda will start against the Pirates in Bradenton on Monday. Girardi wants McCann to catch them both.
With Opening Day just 18 days away, McCann has not yet caught Tanaka in a game.
"That's the reason I'm staying back," McCann said.
The seven-time All-Star was behind the plate at George M. Steinbrenner Field on Friday when those Yankees who did not make the trip to Panama played the Minnesota Twins.
"It would have been a great trip, but I'm not upset that I'm staying back," McCann said. "I'll catch both those guys. It made more sense to stay back here.
"I'll catch each of them [Tanaka and Kuroda] two more times. I'll get more acclimated with both of them. I'll get two more starts with each of them, then we'll be ready to go. That's plenty to feel comfortable when the season starts."
Backup catcher Francisco Cervelli, who caught Tanaka in his first two exhibition games this spring, replaced McCann on the Yankees' traveling squad to Panama.
McCann said he doesn't expect the language barrier between him and the two Japanese pitchers to be a problem. He caught Japanese pitcher Kenshin Kawakami in 2009-'10 with the Atlanta Braves.
"They're professionals, they know what to do," McCann said of Tanaka and Kuroda. "It's baseball. Everybody knows the key words to get the job done. They know 'fastball.' They know "curveball.' We're good. If the season was to start tomorrow we'd be ready to go."
Asked if he has learned any Japanese, McCann grinned. "I'm getting there," he said.
McCann is making a concerted effort this spring to get acquainted with all of the Yankees' pitchers, especially the starters.
"I'm catching quite a bit," he said. "I need to see everybody multiple times. I know what everybody throws. I know what their stuff is. They need to be comfortable delivering a pitch. That's the important thing to me: Executing the pitch."
Jim Hawkins is a contributor to MLB.com This story was not subject to the approval of Major League Baseball or its clubs.