Nuno works on secondary pitches against O's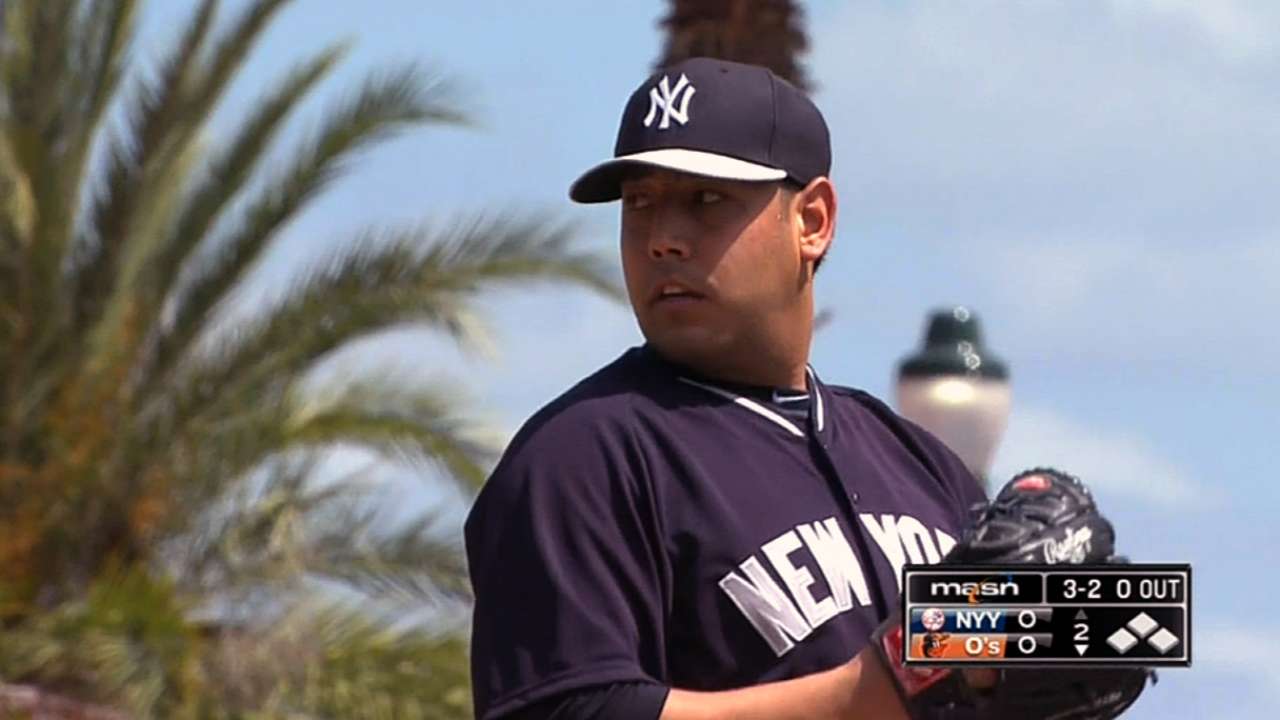 SARASOTA, Fla. -- Yankees left-hander Vidal Nuno mixed things up a bit against the Orioles on Saturday, cutting back on his fastball and throwing more offspeed pitches, but he continued to get results as he competes for the fifth spot in the rotation.
Nuno allowed one hit and a walk and struck out three Orioles hitters in four scoreless innings of work. The 26-year-old lefty has given up just one run on 11 hits in eight innings this spring, with six of those innings coming in Grapefruit League play and the other two in an exhibition against Florida State University.
He threw only 58 pitches and worked quickly on Saturday, letting the Yankees' defense do most of the work behind him.
"Nuno was terrific. That's what he does. He works fast, throws strikes, changes speed behind in the count, throws all his pitches for strikes," acting manager Rob Thomson said. "And he's a valuable guy because he can pick up a lot of innings out of the bullpen, he can start and he can get lefties out. So he's a versatile guy. ... He's really good. He knows how to pitch."
Nuno said he shied away from his fastball in order to mix in his breaking ball, cutter and changeup. Thomson noted that opposing hitters don't take great swings against Nuno's fastball, and he even got Steve Pearce to swing and miss at one for a strikeout to end his final inning. So, why make that change?
"I'm not a flamethrower," Nuno said. "They've seen the other side of me, mixing it in, and that's how I got them off-balance. Yeah, I'd fall behind in the count and not put them away early, but there's again that routine and just being positive with it. ... It's just mixing pitches, not using my fastball that much, locating better and just having that confidence."
This spring has been different for Nuno than a year ago, when he won the 2013 James P. Dawson Award for the most outstanding Yankees rookie in Spring Training. He's more confident in his abilities after proving last season that he's capable of pitching in the Majors, and he's fighting for a spot on the Opening Day roster.
While Nuno admitted he's inspired by the way the other candidates are pitching, he said he hasn't let the competition with Michael Pineda, David Phelps and Adam Warren affect his approach this spring.
"It motivates me," Nuno said. "Pretty much, you're just having a good time being around the guys, and whatever happens, happens. Let the front office decide who's going to do what and where."
Adam Berry is a reporter for MLB.com. Follow him on Twitter at @adamdberry. This story was not subject to the approval of Major League Baseball or its clubs.