Former teammates thrilled to visit Mo's home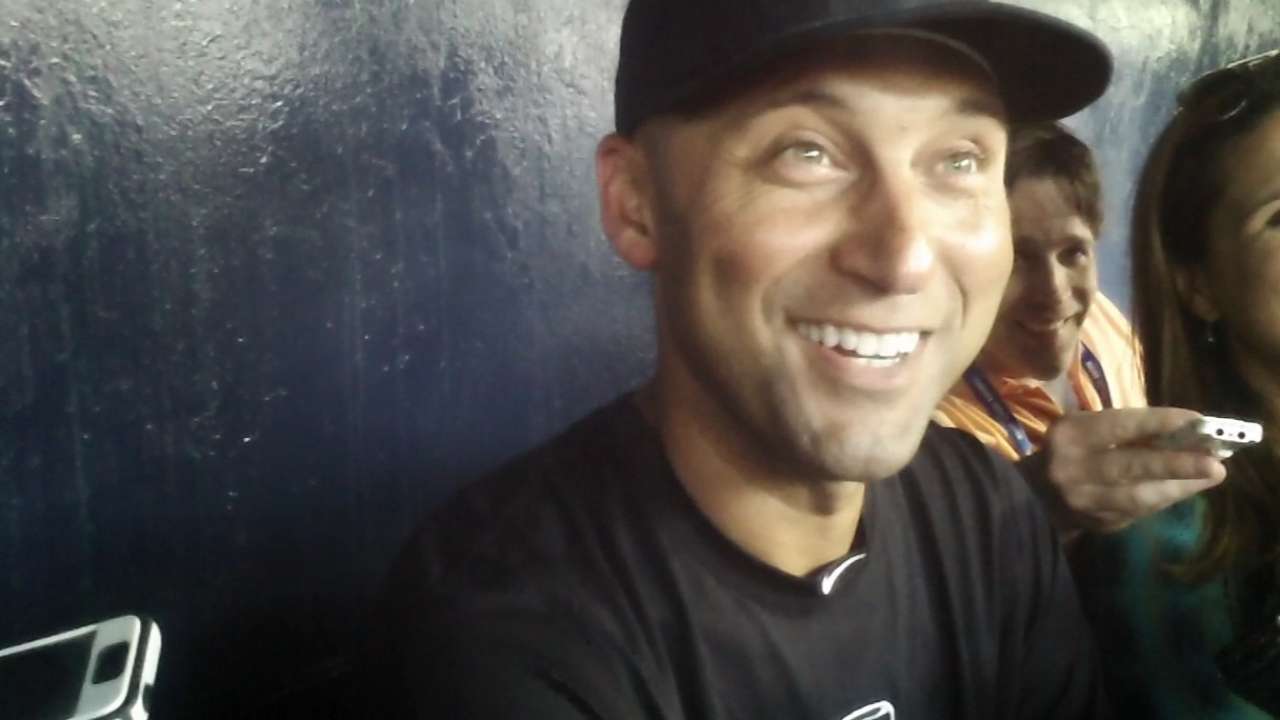 PANAMA CITY, Panama -- It is the experience that Mariano Rivera has dreamed about. Having the Yankees come to Panama is an event that was years in the making, and it has proven to be a fantastic success.
The Yankees arrived in Panama on Thursday evening and enjoyed a whirlwind of events Friday, including a visit to the Panama Canal with Rivera serving as the team's tour guide and two events benefiting Panama City's Children's Hospital.
"You know this is special for Mo," Yankees manager Joe Girardi said. "He'll never forget this. I know he wants this to continue and to go on every year, and so far, so good. As I've said, it has been a great experience."
Yankees captain Derek Jeter was among the players visiting the hospital, helping to distribute a selection of toys to sick children.
"It was sad, but at the same time it was gratifying because you get a chance to see the smile on the kids' faces," Jeter said. "It's mainly because we gave them toys, not because it was us, so I think they were happy to play with some new toys. It's fun."
A gala dinner was held in Rivera's honor on Friday evening at the Trump Ocean Club International Hotel and Tower, attended by more than 500 people and raising funds to benefit the Children's Hospital.
Yankees left-hander CC Sabathia, who will start Saturday's 1:05 p.m. ET game at Rod Carew Stadium, said that Rivera seems to have been enjoying the festivities.
"I know he's excited. You can tell," Sabathia said. "He's just been smiling ear to ear since he got off the plane. For them to bring us here, the events that he's put on, it's been awesome. I know he's really excited."
Jeter, Rivera and Marlins outfielder Giancarlo Stanton took part in a news conference on Saturday morning to officially kick off the 'Legend Series,' also held at the Trump hotel. A baseball clinic was scheduled for Saturday afternoon at Rod Carew Stadium; Yankees players Zoilo Almonte and Gary Sanchez attended and worked with groups of underprivileged children.
"We're here to bring baseball to Panama and expand it, and to be able to be a part of this -- it's something so simple for us," Stanton said. "This is a weekend for us, a 2 1/2 hour flight, but it's so huge to this country and this city."
Yankees president Randy Levine said that Rivera lobbied the team to visit Panama a few years back, and hoped to include a trip as part of his farewell 2013 campaign. Logistical issues made that impossible, but after last season was filled by tributes to Rivera's illustrious playing career, this visit marks the perfect cherry on top of the farewell tour.
"This is his country," Levine said. "When you go around and you see the way the people of Panama adore him, the respect they have for him and his love for this country."
The view from behind home plate at Rod Carew Stadium. #LegendSeries #Yankees #Marlins pic.twitter.com/zehWxeLchz

- Bryan Hoch (@BryanHoch) March 15, 2014
Jeter said that he is visiting Panama for the third time; he was here in the late 1990s as part of a promotional event for Fila, and also a few years ago for an Andruw Jones charity softball game at Rod Carew Stadium. For the captain, the trip is a strong reminder of how important Rivera is to Panama.
"I'm well aware of that," Jeter said. "I've been around town the last couple times I was here. When you think of Panamanian baseball, the first thing that comes to mind is Mo. And people appreciate him here."
Bryan Hoch is a reporter for MLB.com. Follow him on Twitter @bryanhoch and read his MLBlog, Bombers Beat. This story was not subject to the approval of Major League Baseball or its clubs.