Ellsbury scratched with right calf tightness
Yanks center fielder to also sit Monday; club calls move 'precautionary'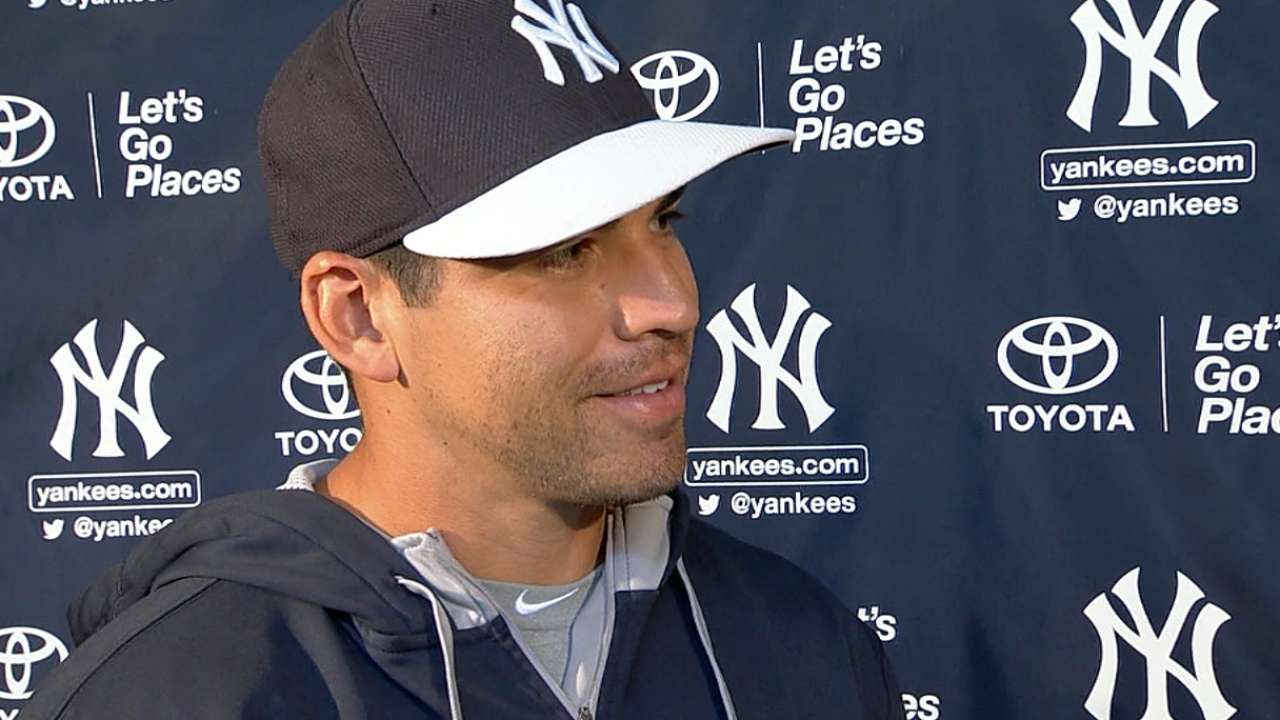 TAMPA, Fla. -- Yankees center fielder Jacoby Ellsbury was scratched from Sunday's starting lineup and will also sit out Monday due to tightness in his right calf.
The Yankees called the decision "precautionary," and Ellsbury insisted he would have played through it during the regular season. The 30-year-old outfielder said he went through a normal workout Saturday, when his calf started to feel a little tight. He felt the same way when he reported to the clubhouse Sunday morning, so the club decided to take him out of the lineup.
"I let them know I was fine to play. That was the first thing I told them: 'I'm good to play,'" Ellsbury said. "They were kind of holding me back -- well, not holding me back -- they just said, 'Hey, let's just get this thing 100 percent."
Ellsbury said he hopes to return to the field Tuesday against the Red Sox, his former team, if he feels healthy by then. Considering Ellsbury's injury history and how much of his value is based on his speed, however, the Yankees seem content to wait.
"It doesn't sound like it's much, but thankfully it's March so we can make sure it's not going to be much," Yankees general manager Brian Cashman said. "We'll make sure we take care of this, and if that takes a few days or a week, so be it."
Ellsbury had been scheduled to make Monday's road trip to Bradenton, Fla., to face the Pirates. But coach Rob Thomson, who's serving as the manager here while Joe Girardi is leading the Yankees' group in Panama, said Ellsbury will sit out that game as well.
Signed this offseason to a seven-year, $153 million deal, Ellsbury has spent a significant amount of time on the disabled list in two of his past four seasons. Cashman said that did not add to his level of concern over Ellsbury's current condition.
"I really just take it as a tight calf in Spring Training. Because he's an important player, you back off and make sure," Cashman said. "You'd like to have as many of your guys available to us when the bell rings, when those games count. Since these games don't count, I want to make sure everybody knows that we don't want to put anything added because his name is Jacoby Ellsbury.
"We don't want to all of a sudden say, 'We've got to get it out there so everybody feels good.' No. Everybody will feel good when he's out there when it counts, so that means giving it time."
Adam Berry is a reporter for MLB.com. Follow him on Twitter at @adamdberry. This story was not subject to the approval of Major League Baseball or its clubs.