Ellsbury remains on sidelines as Yanks host Sox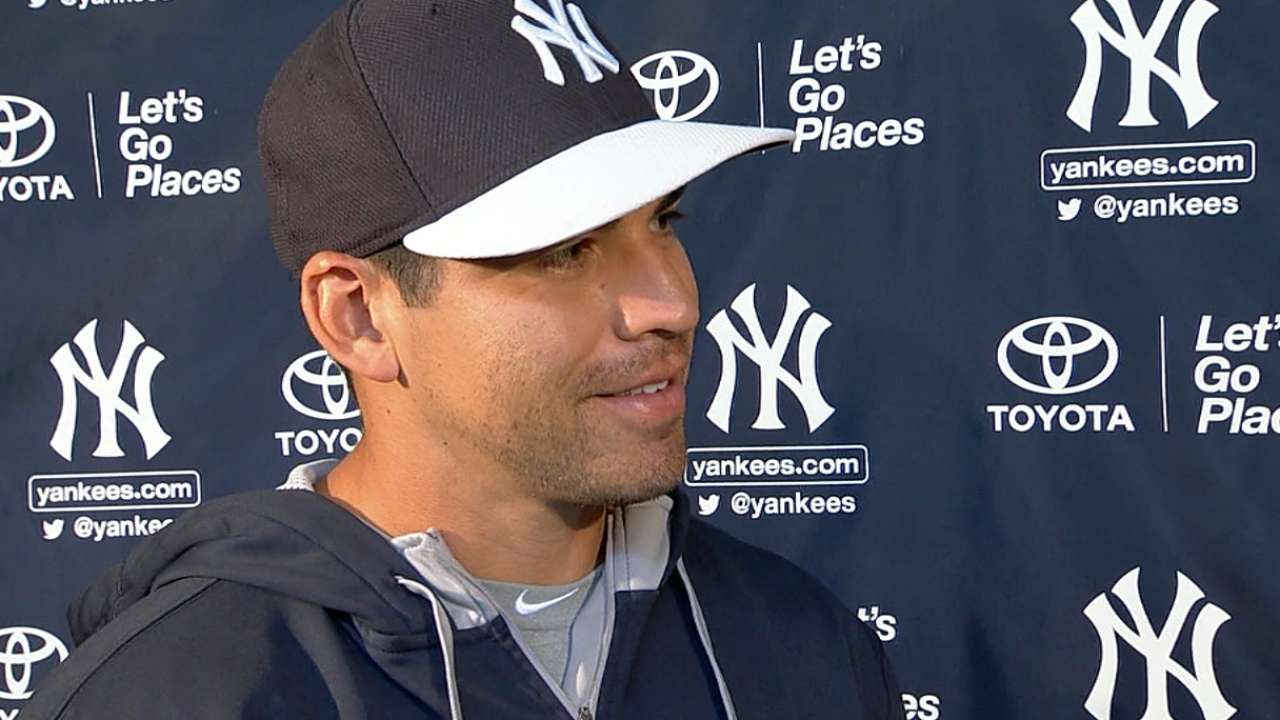 TAMPA, Fla. -- Jacoby Ellsbury was looking forward to getting reacquainted with some of his old Red Sox teammates on Tuesday, but as he guards a sore right calf, he was not able to have any of those conversations between the white lines.
Ellsbury was able to work out on Tuesday, hitting in the batting cages underneath George M. Steinbrenner Field, but manager Joe Girardi said that Ellsbury will not play in Grapefruit League games on Wednesday or Thursday.
Girardi also said that once Ellsbury reports that he feels ready to play, the Yankees will likely sit him for another day or two to be safe.
"We just want it 100 percent," Ellsbury said. "It's just one of those things that when I step on that field ... it'll be fine when I play in that game. That's how we want it."
Ellsbury was scratched from Sunday's lineup and had a full day of rest on Monday. Girardi said that he would need to see Ellsbury run without discomfort before entertaining the idea of putting him back in the lineup.
"I think everyone involved thinks that the best thing is to be cautious and make sure that it's healed," Girardi said. "We're not running him out there if he feels anything. We don't want to run him out there."
Ellsbury, who signed a seven-year, $153 million deal with New York in December, was pleased to see several familiar faces in the visiting dugout for Tuesday's game. Boston's travel roster for the game included Jackie Bradley Jr., Jonny Gomes, David Ross and starter Felix Doubront.
"I've always said, I enjoyed playing there," Ellsbury said. "I have a lot of memories; spent nine years in the organization. That's roughly a third of my life with one team. Definitely a lot of great memories, a lot of friends over there, and I'll still continue to have those relationships with guys down the road."
Ellsbury added that he has loosely been following the Red Sox center-field battle between Bradley and Grady Sizemore, determining Ellsbury's replacement. Ellsbury said that some of his former teammates have been calling him to provide updates.
"I think they're both going to do well," Ellsbury said. "I think they're both going to do great. I trained with Grady this last offseason, so I know Grady a little bit. Obviously I know Jackie pretty well and he has a bright future. I wish them the best."
Bryan Hoch is a reporter for MLB.com. Follow him on Twitter @bryanhoch and read his MLBlog, Bombers Beat. This story was not subject to the approval of Major League Baseball or its clubs.