Back spasms may keep Ryan off Opening Day roster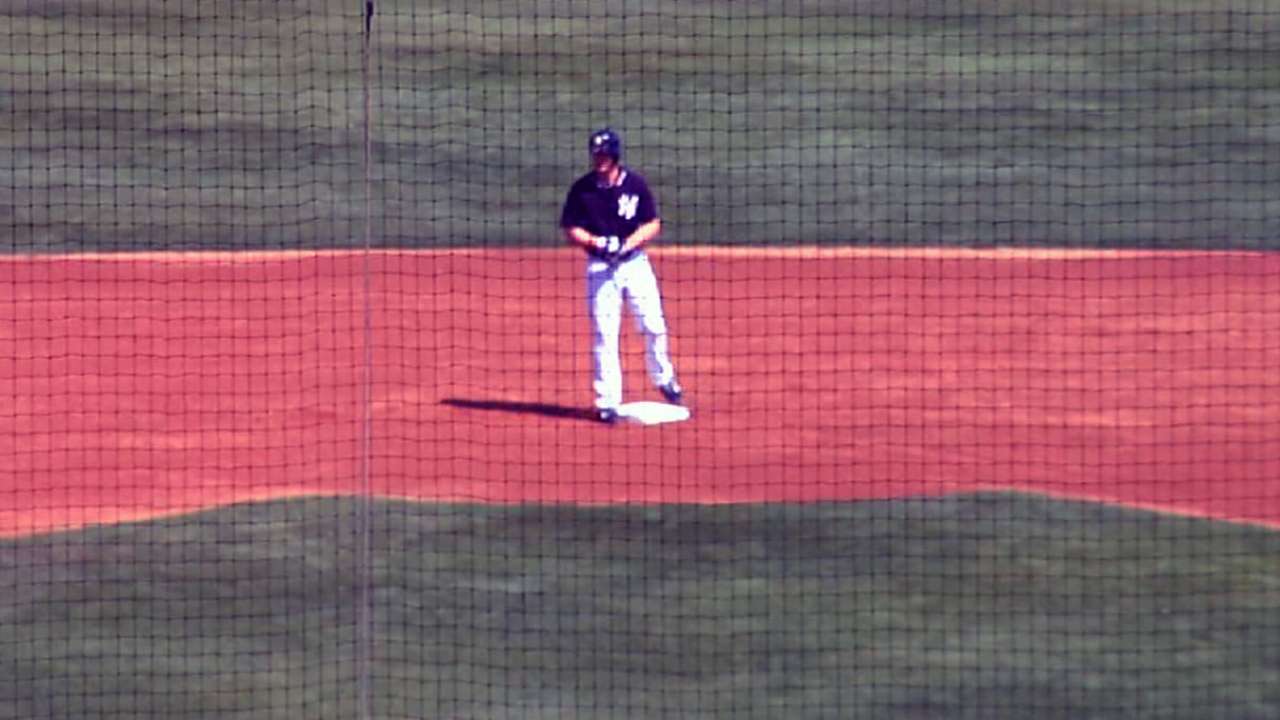 FORT MYERS, Fla. -- Opening Day is now considered to be in jeopardy for shortstop Brendan Ryan, who was scratched from Thursday's lineup against the Red Sox due to upper back spasms.
Ryan, who turns 32 later this month, was expecting to return to game action for the first time since March 4. Ryan felt his back knot up while uncorking a hard throw during infield practice, and he said the spasms are in a higher spot than his previous lower back injury.
"I've felt this stuff before," Ryan said. "It doesn't seem to last for a long, long time. I think there's some work I need to do in there with releasing some of that stuff that's gnarled up. I think after that I'll be right back to where I was."
Manager Joe Girardi, who dealt with back issues during the tail end of his own playing career, cast a less optimistic view of Ryan's situation.
"This was something different; spasms, you're going to be down for a little bit more," Girardi said. "I think you have to be [concerned about Opening Day], just because of where we are right now. I don't imagine he'll play before the weekend is over. I would be surprised."
Ryan signed a two-year, $5 million deal with New York during the offseason and has been envisioned in line to serve as Derek Jeter's backup at shortstop. However, with Ryan's spring limited to just eight at-bats thus far, it is unknown if he will be ready for the season opener on April 1 in Houston.
"Anything is a possibility," Ryan said. "I'm not trying to get too far ahead of myself. Of course I want to be on that plane heading for Houston, but I don't know. I don't want to speak for Joe. I would never do that.
"But whatever is best for me is what they're going to do. If that's getting more at-bats, staying back a couple of days, and then meeting up on Opening Day, I don't know. There's all kind of options at this point."
If Ryan is unavailable for the Opening Day roster, Girardi indicated that he would probably select two players from the group of Eduardo Nunez, Dean Anna and Yangervis Solarte. Nunez and Anna are both on the 40-man roster, while Solarte is a non-roster invitee this spring.
"All these guys that are competing for that extra spot, they can pretty much all play shortstop," Girardi said. "Nunez does, Anna does, Solarte does. You can look at it that way."
Bryan Hoch is a reporter for MLB.com. Follow him on Twitter @bryanhoch and read his MLBlog, Bombers Beat. This story was not subject to the approval of Major League Baseball or its clubs.