Tanaka gains valuable experience vs. Twins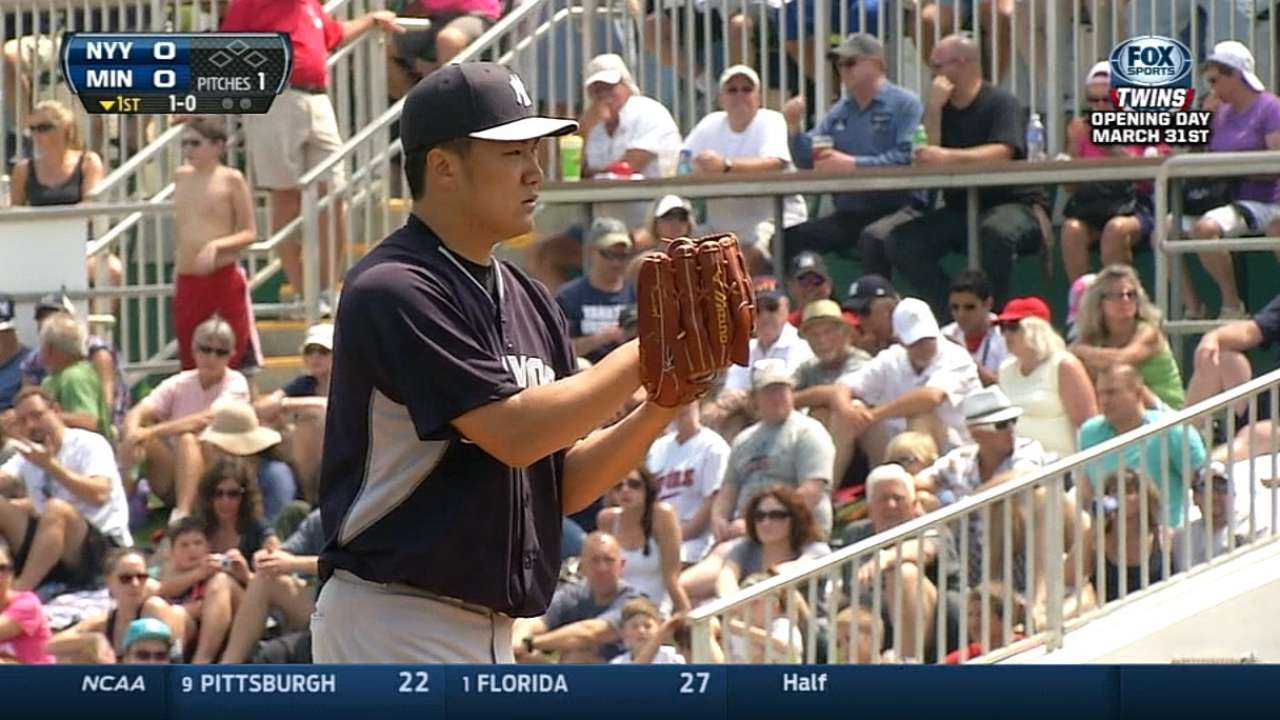 FORT MYERS, Fla. -- In his inaugural season in Major League Baseball, right-hander Masahiro Tanaka will experience a lot of 'firsts.' During Saturday afternoon's 5-4 win over the Twins, he worked into and out of jams for the first time this spring.
Brian Dozier opened with a double, took third on Kurt Suzuki's groundout and scored on Joe Mauer's groundout in the first inning.
After a 1-2-3 second, Tanaka got into a jam in the third. After a strike-him-out-throw-him-out double play (which was successfully challenged by the Yankees), Dozier singled, Suzuki reached on an error by third baseman Scott Sizemore, and Tanaka walked Mauer to load the bases. But Josh Willingham's drive to deep left field faded at the warning track, where Zelous Wheeler caught it for the third out, ending the threat.
After retiring the side in order in the fourth and fifth, Tanaka gave up two runs in the sixth. Suzuki led off with a single, before Tanaka struck out Mauer swinging at a cutter. Then, he hit Willingham with a pitch and Alex Presley came on as a pinch-runner. Jason Kubel doubled to right to score Suzuki. Presley went to third on the play and scored on Trevor Plouffe's groundout to Sizemore.
That ended Tanaka's outing after 92 pitches. He lasted 5 2/3 innings, allowing three runs on five hits, a walk and a hit batter, while registering six strikeouts. It was more runs than he had given up in his previous three outings (two starts) combined. But, it was good enough for him to earn his first Grapefruit League win.
"I felt that it was very obvious that I had good innings and I had bad innings out there today," Tanaka said through interpreter Shingo Horie.
"The innings that I thought were good, I think I had first strikes a lot. But, on the other hand, the innings that I gave up runs, I think it was the other way around -- starting out ball, ball."
Tanaka said he fell behind in the count because he was struggling with his release point.
Manager Joe Girardi, though, was happy to see the right-hander able to pitch his way out of trouble against a Twins lineup that will be very close to the one that will face Chicago lefty Chris Sale on Opening Day.
"He did alright," Girardi said. "I've seen him sharper. I thought the first three innings he struggled a little bit with his command, fourth and fifth he got it back, and sixth inning he gave up a couple of runs. But, overall, I was pleased because I didn't think he had his great stuff today but he held them down.
"That's what you want to see, because you're not going to have your great stuff every time you go out there. So [you've] got to figure out a way to get it done. So that's what he did today. That's good."
Twins manager Ron Gardenhire was impressed by Tanaka.
"Fun to watch," Gardenhire said. "The ball had a lot of movement. Our hitters were saying the ball was moving great -- splitter, whatever that thing is, the changeup, dives down pretty hard. [He] has a nice little slider. Has deception. Looks like he's going to be a good one, which we all thought he would be. I don't think they'd go after a guy if he wasn't good. It was fun for our guys to get a chance to take a peek at him and see what he's got. He's a good pitcher."
Catcher Francisco Cervelli was able to learn a little more about Tanaka during the outing.
"I know now what he's able to do -- and he's good, man," Cervelli said. "I think during the season he's just going to be more aggressive, because [there will be] 50,000 people and it's New York.
"I just expect to be able to call any pitch in any count. And he's able to do that. In some counts, I just wanted to go inside -- because that's what we talked about before, and he's great. Just catch the ball and he say, 'Yes,' and then go again.
"He was good. [He] was working on some things like fastball inside to righties, and I think it's great. Any time he got [into] a little problem, he got a little extra and he can command every pitch very well."
The bases-loaded fly ball to the warning track by Willingham was also a learning experience.
"The fastball, a two-seam inside, stayed a little up," Cervelli said. "When the two-seam doesn't go down, that's a problem. But it was an out. Next time, [we've] got to go a little down."
Tanaka has pitched 15 innings over four appearances so far this spring, allowing five runs on 12 hits and racking up 16 strikeouts. His ERA sits at 3.00.
"I feel that I've been fortunate that I'm not hurt at this point, and I'm happy that I was able to build my pitches up to where I am," Tanaka said.
He is about what Girardi anticipated coming into the spring.
"[He's been] pretty much what I thought he was," Girardi said. "From watching film on him in October and studying his tapes and seeing what he's got, he's pretty much what I thought he was. He knows how to pitch and he's got a strike split and a swing-and-miss split and he can add and subtract to his fastball, he can sink it. He knows how to pitch. He holds runners. He does all the things that he has to do to be successful."
Tanaka will have one more outing this spring in which he's expected to taper back his workload. But he's ready to begin his first Major League season.
"I feel that if I go up there and I'm able to do what I want to do up there," said Tanaka, "then I feel that I'll be pretty successful out there."
Maureen Mullen is a contributor to MLB.com. This story was not subject to the approval of Major League Baseball or its clubs.