Yanks win their first replay challenge this spring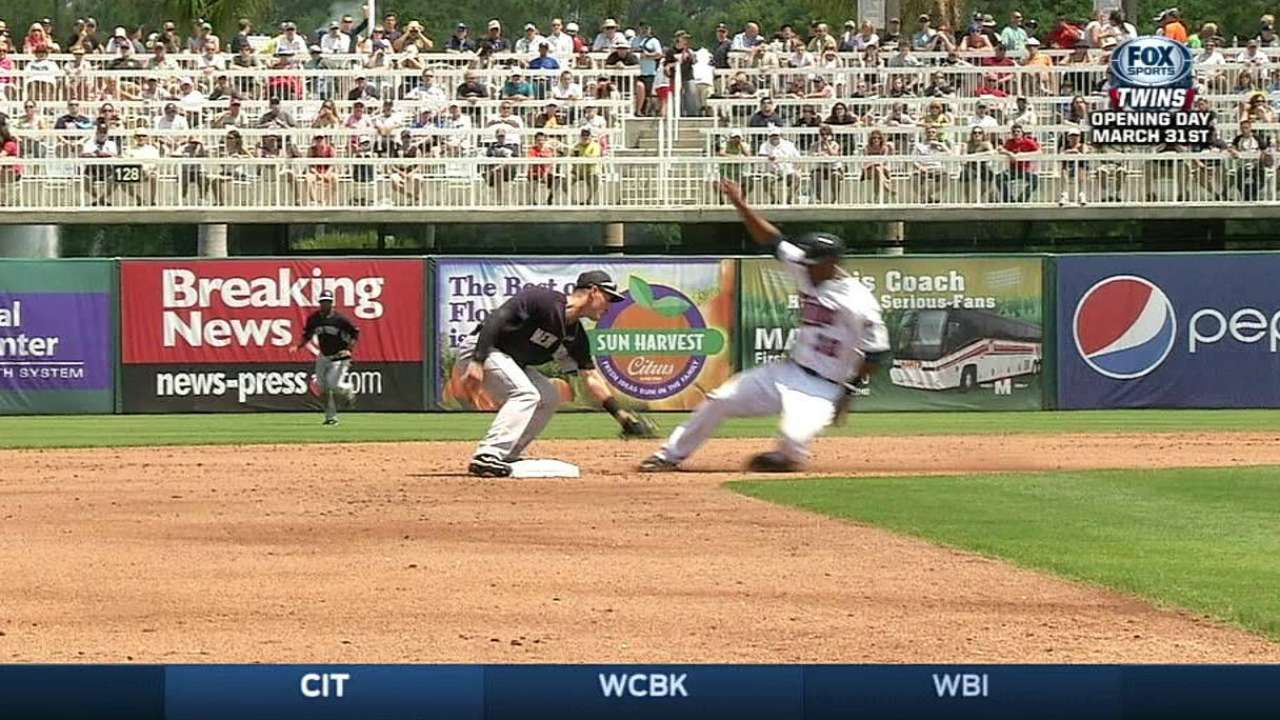 FORT MYERS, Fla. -- The Yankees won their first replay challenge of the spring during the third inning of Saturday's 5-4 win over the Twins. With Aaron Hicks on first and Pedro Florimon facing Masahiro Tanaka, Florimon struck out looking with Hicks breaking for second. The throw from catcher Francisco Cervelli to second baseman Dean Anna was in time, but it appeared Hicks evaded the tag.
Hicks was initially called safe on the play, but Yankees manager Joe Girardi challenged the ruling. As Girardi walked slowly out of the dugout -- "very slowly compared to what I usually do," he said later -- to talk with second-base umpire Marvin Hudson, Yankees baseball operations assistant Brett Weber was watching the replays on TV. Weber relayed his thoughts on the play to bench coach Tony Pena, who signaled to Girardi to challenge the call.
Hudson and home-plate umpire Jeff Kellogg listened on headsets that were brought to the field by a member of the TV production crew, as the play was reviewed in a production truck close to the field.
After just 44 seconds, the ruling was reversed -- marking the first time this spring the Yankees were successful on a challenge.
"It feels pretty good, actually," Girardi said. "The great thing about it is, no one wants to be wrong -- whether it's me or them. I can remember as a player complaining about strikes and balls, and I [would] go watch it and ... say, 'You know what, I was wrong.' It's just the heat of the moment, everyone has to make a quick decision. There's been a lot of times I've argued calls [where] I thought for sure I was right, and I was wrong. But now we have replay to reassure everyone."
Despite some glitches in the system this spring, Girardi is an advocate.
"I haven't lost faith in the system," he said. "I actually think it's going to work good. I do. There'll be some glitches once in a while, and some things might take a little bit longer than they want. But I actually think it's going to work good. It took 45 seconds or whatever from the time I asked. They don't have all the replays that they're going to have during the season, so it was pretty quick."
Because he was successful, Girardi retained the challenge.
Maureen Mullen is a contributor to MLB.com. This story was not subject to the approval of Major League Baseball or its clubs.