Bullpen hopeful Betances comes up big in seventh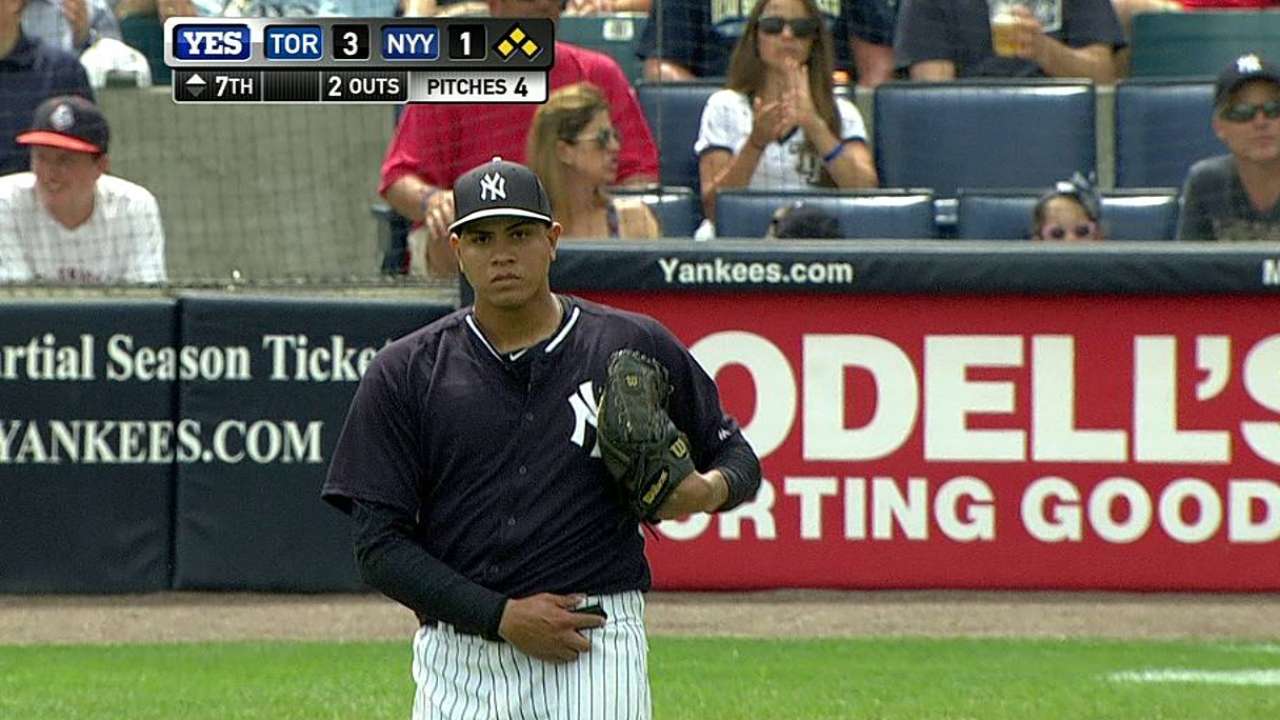 TAMPA, Fla. -- Yankees pitcher Dellin Betances said he didn't notice Jose Bautista slinging his bat after a bases-loaded strikeout. "I'm just trying to get the next guy out,'' he said.
That next guy was Edwin Encarnacion, and Betances set him down, too. He flied out to left fielder Brett Gardner to leave the bases loaded in the seventh inning of the Yankees' 3-1 loss to the Blue Jays on Sunday.
Score a major step forward in Betances' campaign for a spot in the Yankees' bullpen.
Once a highly touted prospect as a starter, Betances reinvented himself after a move to the bullpen last year. He has had a strong Spring Training, allowing only four hits in 10 1/3 innings over eight outings.
Even if Betances didn't notice Bautista slinging his bat after home-plate umpire Mark Wegner called him out on strikes, manager Joe Girardi certainly did.
"Sure I [noticed]," Girardi said. "He has really good stuff. Those guys [Bautista and Encarnacion] aren't going to give at-bats away. When Bautista slings his bat, you know he's not giving anything away.''
While Betances hasn't earned his spot in a seven-man bullpen, he isn't likely to be sent out of camp in the next few days, when the next cuts are expected to be made. Girardi said the bullpen picture should "get much clearer on Tuesday,'' but he's not expected to set his Opening Day roster until next weekend.
"Every time I go out there this spring, it means something,'' Betances said. "I'm fighting for a spot every time out. I'm trying to make the best impression. I feel good, but it's not up to me. There's stuff I can improve on. The whole pitching staff has pitched great.''
Phil Rogers is a columnist for MLB.com. This story was not subject to the approval of Major League Baseball or its clubs.