Jeter just beginning to shed rust from lost season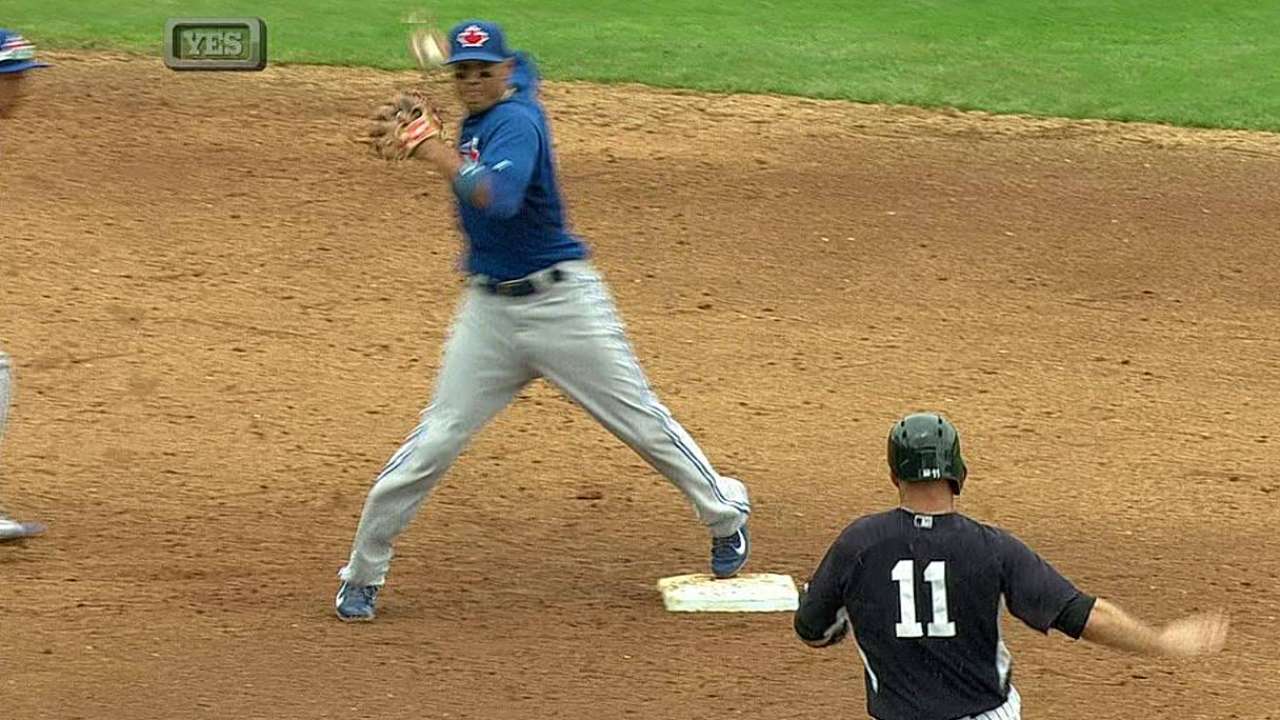 DUNEDIN, Fla. -- The hits may not have been falling very often for Derek Jeter this spring, but with Opening Day right around the corner, the Yankees' captain believes he is clicking into form at just the right time.
Jeter went 1-for-2 with a walk and two runs in the Yankees' 10-6 loss to the Blue Jays on Wednesday, raising his spring average to .143 (7-for-49). He has said that it was taking longer than expected to knock rust off after being limited to 17 games last season.
"That's the goal, to get ready for Opening Day," Jeter said. "Sometimes you have to use more of the spring than others to get ready, but I feel good where I am right now. We have a couple more games left and then we'll start the year, so I'm happy with where I am."
Yankees manager Joe Girardi said that he sees Jeter's timing improving every day. Jeter played back-to-back games at shortstop for the first time this spring on Tuesday and Wednesday; he is scheduled to have Thursday off, then will play on Saturday and Sunday.
"The big thing for me is he's healthy," Girardi said. "He's responding day after day, coming back, playing four out of five days. I think he's starting to swing the bat a little bit better. He's starting to get the ball in the air, line drives.
"I don't worry too much about Spring Training for veteran guys, especially a guy who really hasn't played in a year and a half. I don't worry about it. We've talked about his timing. He feels it's better and better. I think it will continue to improve and he'll be fine."
Jeter said that he has been on a normal spring schedule since camp started in February, but it has taken slightly longer to get in the rhythm of playing games. Jeter said that he finally started to feel comfortable a few days ago.
"For me, every spring it's pretty much the same thing," Jeter said. "This year may have taken a little bit longer, but first you want to make sure you're seeing the ball. Then it's you want to make sure you're swinging at good pitches, then it's contact.
"Driving balls in the air is usually the last thing that comes. It's usually been like that every spring. This year, maybe it's taken a little bit longer than other ones, but I think that's understandable considering I haven't played in quite some time."
Girardi said that he does not have any issues with Jeter's defensive play to date.
"He's consistent out there," Girardi said. "It's really nice to see him move without having to force it, like what we had to watch all last year. It was hard for everybody to watch, because it's not something that we were accustomed to.
"But he's went to his right, he's went to his left, he's come in. I don't remember a ball really going back, but he's looked pretty good."
Bryan Hoch is a reporter for MLB.com. Follow him on Twitter @bryanhoch and read his MLBlog, Bombers Beat. This story was not subject to the approval of Major League Baseball or its clubs.