Nunez, Anna, Solarte await Yanks' choices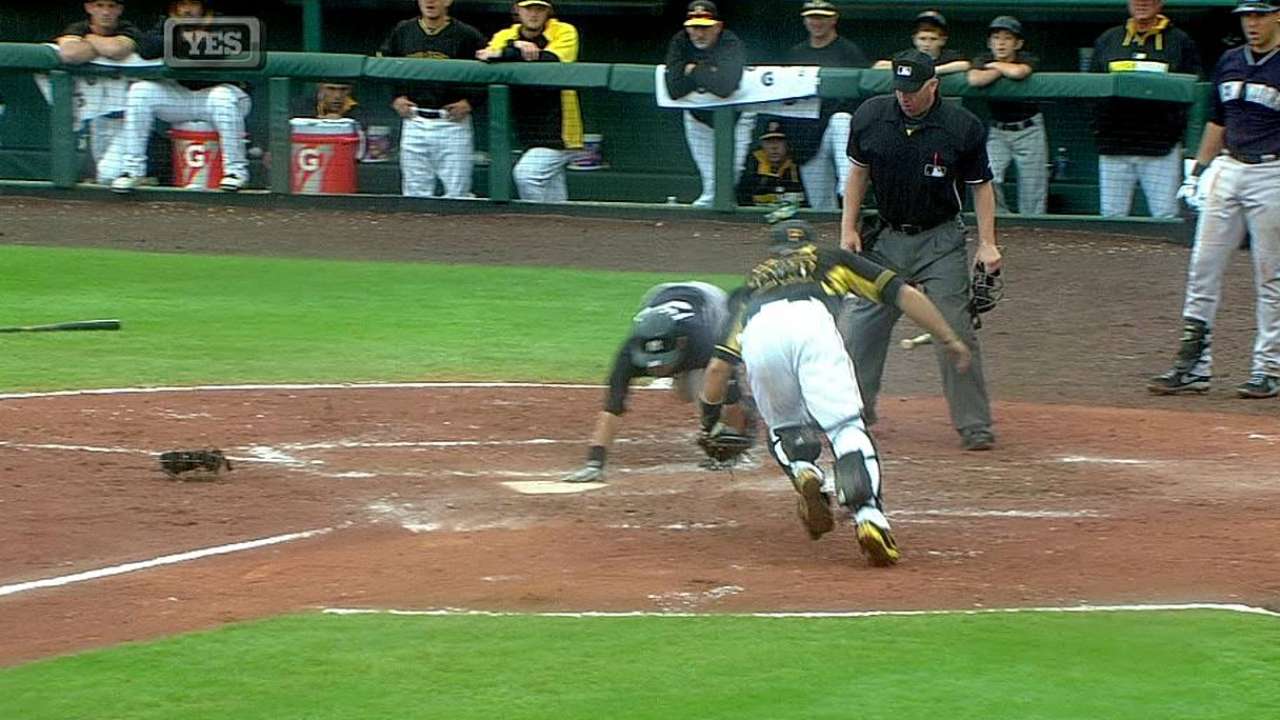 BRADENTON, Fla. -- Eduardo Nunez has not packed one stitch of clothing for the regular season, and probably won't until Saturday. He is one of three Yankees infielders stuck in a holding pattern while the team decides how to finish off the 25-man roster.
"It's funny, but it's not funny," said Nunez, with a laugh.
Nunez, Dean Anna and non-roster invitee Yangervis Solarte all had one last crack to impress the Yankees' coaches on Thursday, grabbing starts in a 4-2 Grapefruit League victory over the Pirates at McKechnie Field.
Nunez went 3-for-4 with a run and an RBI, while Anna and Solarte each went hitless in four at-bats. The Yankees plan to take two of the three and will give the topic a lot of thought and discussion on Friday, when an announcement is expected.
"This was not a great Spring Training for offense, but I'm learning a lot," said the 27-year-old Nunez, who batted .265 this spring. "I got my confidence at third base and second base, too. But I don't worry about my hitting, because I can do better with that."
Nunez has played in 129 career big league games, all with the Yankees, but manager Joe Girardi has said that neither of their two vacancies have been decided. Nunez said that getting the late nod to make the club is not out of the ordinary for him.
"The last two years, they [told] me the last two days of the camp," Nunez said. "So for me, it's not a surprise. I've always been in this situation."
Solarte, 26, was among the Yankees' top offensive players of the spring. A non-roster invitee who played at Triple-A in the Rangers' system the last two years, Solarte hit .415 (17-for-41) with two homers and eight RBIs to put himself on the radar.
"I feel pretty satisfied with the work that I have done, but regarding the chances, that's something I cannot control and I leave that to the Yankees," Solarte said through an interpreter.
Solarte was nearly promoted to the big leagues by the Rangers last September, and said that he would report to Triple-A Scranton/Wilkes-Barre if he doesn't make the Yankees' Opening Day roster.
"I will take an opportunity, either if it's up here on the team or down in Triple-A," Solarte said. "You just want an opportunity."
Anna, 27, was acquired from the Padres in November after leading the Pacific Coast League with a .331 average last year, and is attending his first big league camp this spring.
He said that he did not feel any added pressure on Thursday, knowing that the Yankees will be judging more than just one game to make their decisions.
"That's over with. That's how I felt the first week, where I needed to do something no matter what," Anna said. "But now it's just, get ready for the season. Whatever happens from here on out, I feel I did pretty well."
Bryan Hoch is a reporter for MLB.com. Follow him on Twitter @bryanhoch and read his MLBlog, Bombers Beat. This story was not subject to the approval of Major League Baseball or its clubs.