Teixeira addresses bad habit, encouraged by health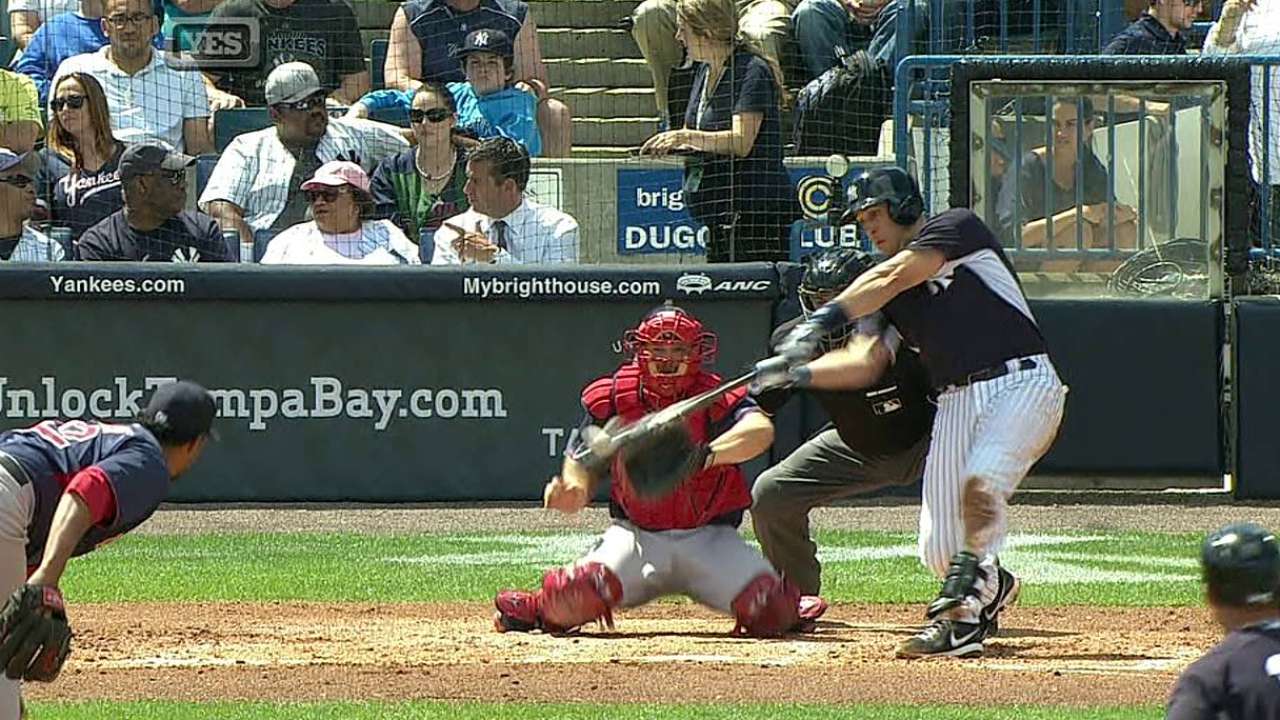 TAMPA, Fla. -- Mark Teixeira said that he had been protecting his surgically repaired right wrist and not taking his most powerful cuts at the plate this spring, but a sit-down with Yankees hitting coach Kevin Long has addressed the problem.
"It was something I didn't know I was doing," Teixeira said. "Kevin and I have, over the last week, we've been really trying to work on me taking my full swing. What I noticed in game film from Spring Training, I was protecting my swing the way I was doing last year when I was hurt. I think it's just bad habits that I got into last year."
Teixeira said that, when batting left-handed, he was taking his left hand off the bat in mid-swing to protect his right wrist -- doing it in games as well as in batting practice.
Long and manager Joe Girardi were encouraged that Teixeira -- who was batting .091 (3-for-33) this spring, heading into Friday night's game against the Marlins -- seemed to start taking better swings on Thursday against the Pirates in Bradenton, Fla.
"We all needed to see that," Long said. "You want these guys going into the season feeling good about their swing and what they're doing, how the ball is coming off the bat. For everybody; Tex certainly, and Joe wanted to see it, I wanted to see it as well. We got positive feedback."
Teixeira said that despite his lackluster spring numbers, he has been encouraged by making it through the spring healthy.
"I've been hitting some nice line drives, but those line drives I need to get under and hit for home runs," Teixeira said. "That'll come with just getting stronger as the season goes on. No one can predict what the season's going to give you, but what I do know is that through six weeks of Spring Training, I'm healthy. And that's a really good sign."
Teixeira also said that he believes his usual target goals of 30 home runs and 100 RBIs can be in play.
"My thing has been, since early in my career, if I'm on the field, that's what I'm going to do," Teixeira said. "So I need to be on the field for 162 games. We talked about my plan this whole spring, it was to get my body in position to play 150-plus games. The way I feel today, I'm confident that I can do that."
Bryan Hoch is a reporter for MLB.com. Follow him on Twitter @bryanhoch and read his MLBlog, Bombers Beat. This story was not subject to the approval of Major League Baseball or its clubs.