Jeter gets key to city on final Spring Training day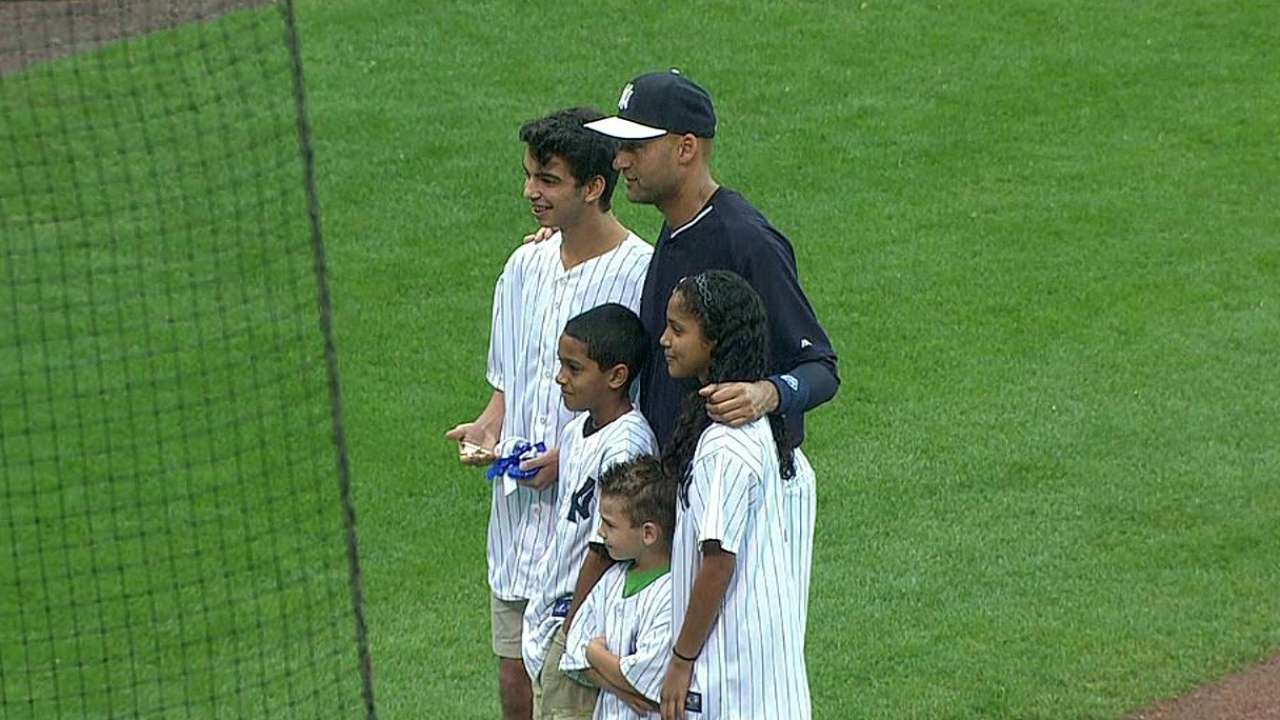 TAMPA, Fla. -- The stadium was called Legends Field back in the spring of 1996, having just opened its gates to the public, and it was where a 21-year-old Derek Jeter celebrated that he was going north as the Yankees' Opening Day shortstop.
Nearly two decades later, Jeter stood outside those same clubhouse doors, leaving the facility -- now referred to as George M. Steinbrenner Field -- for the final time as an active player. The captain has played his last Spring Training game.
"It hasn't really set in," Jeter said. "It's odd to think that I won't be back. I've been coming here since '96; the first year it opened was my first year. It will be a little different; it will probably be a little more different next year when Spring Training starts. Right now, I'm just looking forward to getting to Houston."
Jeter was honored prior to what would have been his final spring game on Saturday, as he was presented with a key to the city of Tampa. The game was cancelled due to rain moments after the presentation.
"I live here, so now I can do whatever I want when I'm in Tampa," Jeter said with a smile. "I don't know how long it unlocks the doors for. It always feels good to be recognized. I spend a lot of time here, I live here in the offseason, so I thought it was very nice."
Jeter, 39, concluded his final spring with the Yankees batting .137 (7-for-51), with a double and two RBIs. He said that it took him longer than expected to regain his timing after missing most of last year due to injuries, but the veteran said that he feels prepared to begin the season as the Yanks' everyday shortstop.
"I feel good. That was the most important thing," Jeter said. "Spring Training is a progression, both physically and being game-ready. I feel I'm where I want to be right now."
Jeter said that he doesn't remember much about that spring of '96, except for that the facility was brand new. He has also recalled how Steinbrenner was unsure about going into the season with an unproven shortstop.
As the story goes, the Mariners offered journeyman infielder Felix Fermin to the Yankees, seeking pitchers Mariano Rivera or Bob Wickman in return -- a deal would have changed the course of franchise history. It was never especially close to happening, as the front office and manager Joe Torre went to bat for Jeter.
In recent seasons, Jeter has acknowledged trying to fast-forward the clock to Opening Day. He hopes that he was able to slow things down a little bit in his final run through the Grapefruit League.
"I just tried to not look forward to the end of it," Jeter said. "Most people look forward to the end of spring about two weeks into it, but I just tried to take it in, day in and day out. That's what I'll remember."
Bryan Hoch is a reporter for MLB.com. Follow him on Twitter @bryanhoch and read his MLBlog, Bombers Beat. This story was not subject to the approval of Major League Baseball or its clubs.