Memories rush back for reunion in Bronx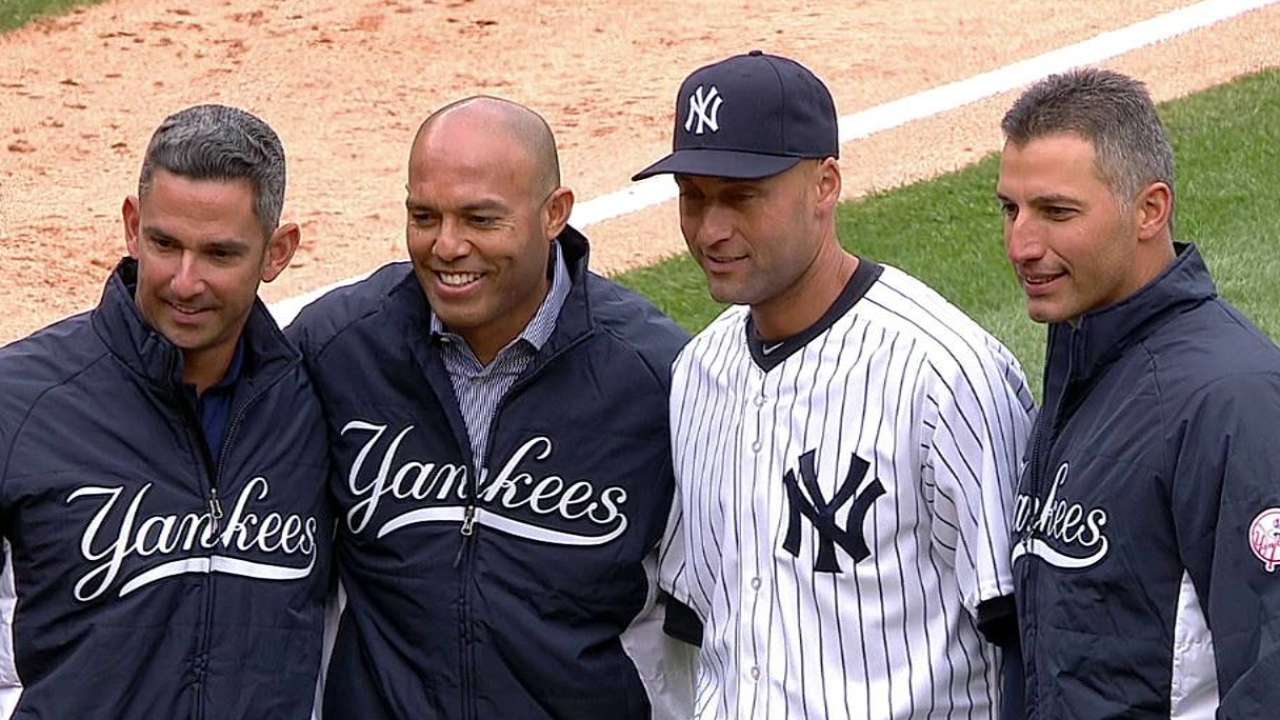 NEW YORK -- As Derek Jeter prepared for his final Opening Day at Yankee Stadium, the captain was able to look ahead to a reunion with the "Core Four," one that would take place in front of 48,142 witnesses.
Jeter learned last week that he and Jorge Posada would be catching ceremonial first pitches from Mariano Rivera and Andy Pettitte prior to Monday afternoon's home opener against the Orioles. Jeter received Pettitte's toss, while Posada handled Rivera's.
"I asked Derek who he wanted to catch, and I said, 'Mo's throwing sinkers and cutters,'" Posada said. "He said, 'I'm going to catch Andy.' He started laughing."
Before the game, Jeter said that he would enjoy reuniting with his trio of former teammates, all of whom were key cogs in the club's most recent run of championship baseball.
"I don't know the last time we were all together; obviously it was at some point last year during Spring Training," Jeter said. "I was hurt a lot, so I don't know if we were all really on the field at the same time, but those guys are like brothers to me.
"I think it will be a special moment, especially for a lot of the fans that grew up watching all four of us play, to see us all together again. I look forward to seeing them all the time."
Pettitte said that it was fun for the three ex-Yankees to come on to the field and join Jeter -- the final member of the core still wearing pinstripes.
"Any time we all get together, it's special for all of us," Pettitte said. "It's cool to see Derek out there in a uniform, obviously us all in street clothes. We're all pulling for him to have a good, healthy season this year."
"You always want every chance to have the opportunity to be at Opening Day with your teammates," Rivera said. "You're always looking forward to it. But now, on the other side, seeing the last one standing is Derek -- just like Andy said, you just want to wish him the best."
Following Monday's game, Pettitte and Rivera are scheduled to be honored with the "Pride of the Yankees" award at the club's 35th annual Homecoming Dinner in New York.
Even though Jeter's last at-bat will go into the books later this season, Posada said that he hopes the Core Four will be a regular sight at Yankee Stadium for years to come.
"This year, Derek's the only one with a uniform on," Posada said. "But probably next Opening Day, all of us will be in street clothes or something like that. It's kind of weird, but it is what it is. We have to move on, and another Core Four has got to step up now."
Bryan Hoch is a reporter for MLB.com. Follow him on Twitter @bryanhoch and read his MLBlog, Bombers Beat. This story was not subject to the approval of Major League Baseball or its clubs.