Minus Robertson, Yanks feel 'pen up to task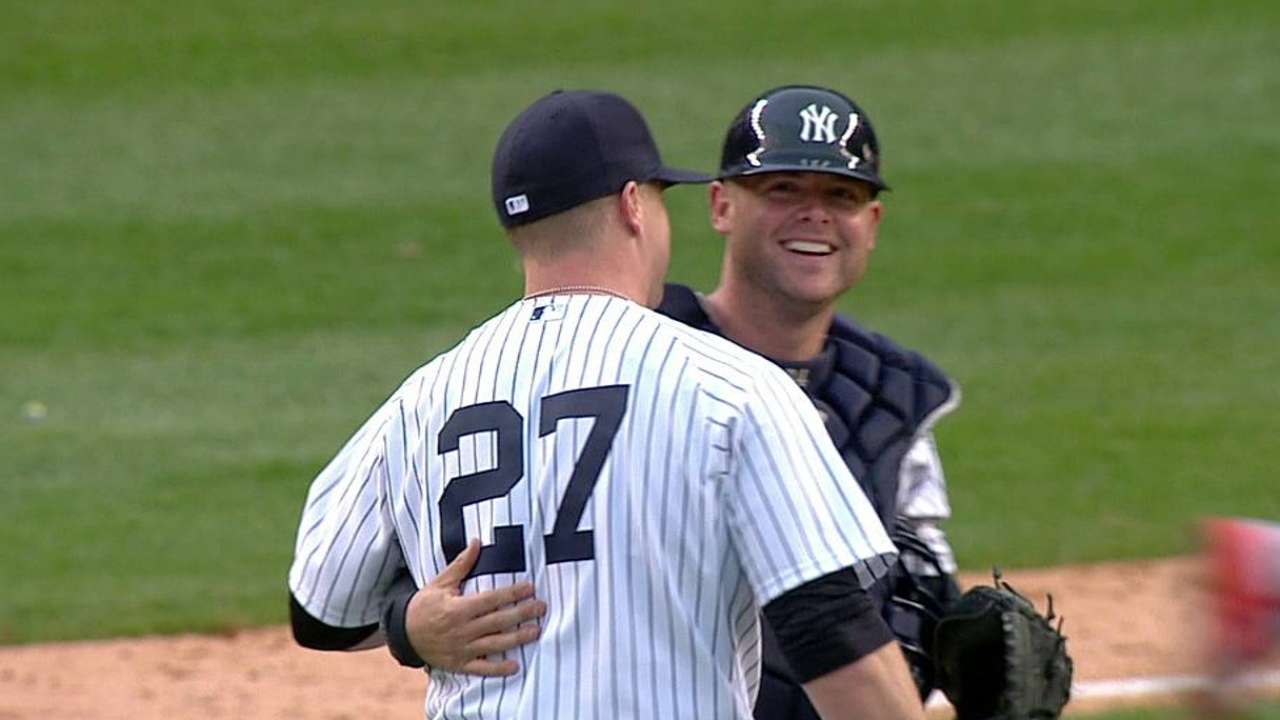 NEW YORK -- Navigating the late innings will be more challenging for the Yankees while they are without closer David Robertson, but catcher Brian McCann has confidence that the club's bullpen has what it takes to get the job done.
"Those guys, the only thing they haven't done is get the experience of the eighth inning, ninth inning, pitching late in ballgames," McCann said. "They have good stuff, which can play no matter what the inning."
The Yankees got a good look at one possible blueprint in Monday's 4-2 win over the Orioles. Left-hander Matt Thornton and right-hander David Phelps pitched out of a seventh-inning jam by each recording an out, stranding two men on base.
Adam Warren pitched around a leadoff walk to work a scoreless eighth, and Shawn Kelley pitched a perfect ninth inning for his first career save. They'll have to find a new route on Tuesday, as Girardi said that Kelley wouldn't be available to pitch because he has worked in back-to-back games.
The Yankees have been pleased by what they have seen thus far from Warren, who enjoyed a solid spring and has seen his velocity tick up with the move to the bullpen.
"I definitely felt like I had more energy [Monday], and it's kind of a neat feeling," Warren said. "Just that little bit of extra energy, and then the crowd starts getting excited -- it definitely gets you more adrenaline, and you get a little more amped up for it."
Warren said that it is a blow for the Yankees to lose Robertson, but the members of the bullpen believe that they will be able to handle things during his absence.
"We're going to try to step up and fill that void, for that little brief period of time," Warren said. "We're not worried about it. We keep passing the baton to each other, worry about executing pitches, and the rest will take care of itself."
Bryan Hoch is a reporter for MLB.com. Follow him on Twitter @bryanhoch and read his MLBlog, Bombers Beat. This story was not subject to the approval of Major League Baseball or its clubs.