Winners of 2014 Breaking Barriers essay announced
Fifth-grader and ninth-grader will be recognized at All-Star Game and World Series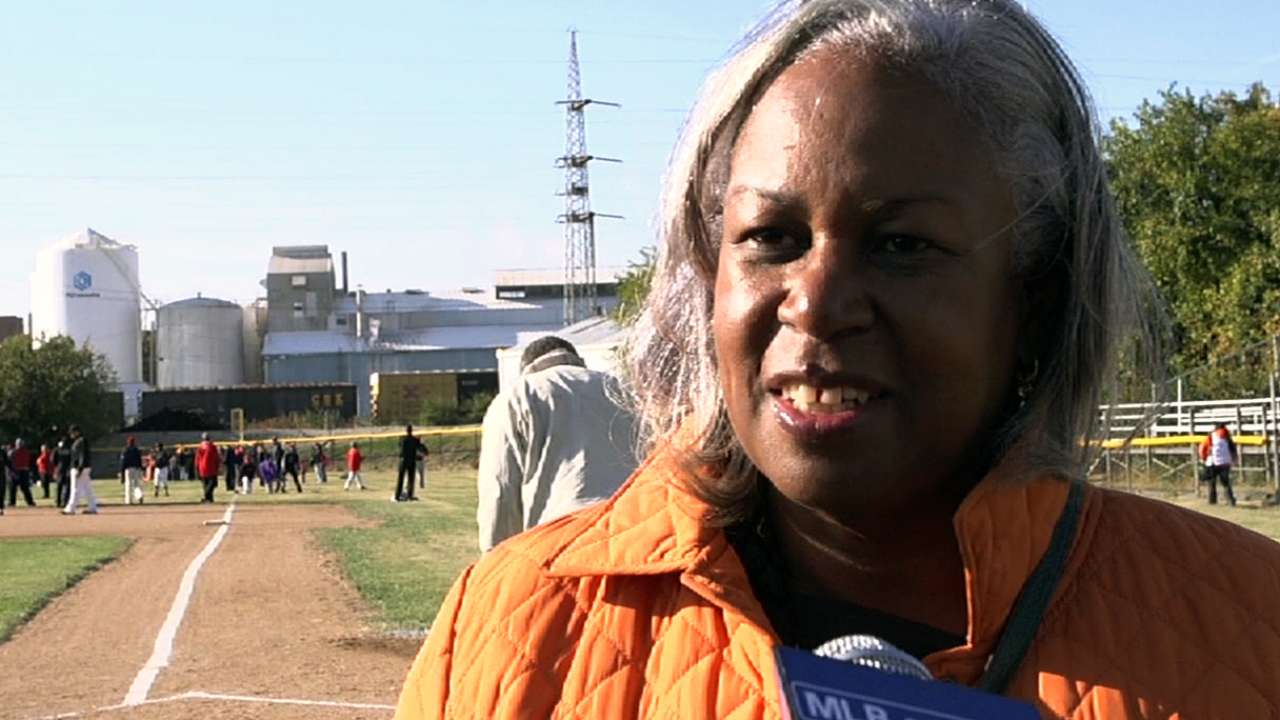 There's nothing quite like hitting a home run in front of a national audience.
Raymond Beasley V and Michael Andaloro have been named the two grand prize winners of the national Breaking Barriers Essay Contest, and the two young men will be feted by Major League Baseball and introduced to the world at both the 2014 All-Star Game and the 2014 World Series.
Beasley, a fifth-grader from Brentwood, Calif., and Andaloro, a ninth-grader from Phoenix, were chosen as winners from a pool of nearly 19,000 applicants from students in the United States, Canada and Puerto Rico. Sharon Robinson, MLB's educational programming consultant and daughter of Jackie Robinson, helped create the essay contest in 1997, and she will personally meet the winners.
Beasley wrote his essay about his determination to thrive after a series operations related to a brain tumor, and Andaloro wrote about the commitment and persistence it takes for him to succeed as the only deaf student at his school. Both students -- and their teachers -- will get a new laptop from Microsoft as part of their award, as will four additional first-prize winners from the contest.
Breaking Barriers was created in 1997 by Sharon Robinson in conjunction with Major League Baseball and Scholastic, and each year a winner is chosen based on the writer's eloquence in describing their perseverance in overcoming obstacles or barriers they have faced in their lives. The contest is based on the memory of Jackie Robinson, whose bravery in breaking the sport's color line will never be forgotten.
"Jackie Robinson's courage on April 15, 1947, represents the proudest and most powerful moment in baseball history," Commissioner Allan H. (Bud) Selig said Thursday as part of a press release. "The Breaking Barriers program is an extraordinary testament to Jackie's values and the manner in which they continue to inspire people of all ages. On behalf of Major League Baseball, I congratulate all the winners of this year's essay contest, and I particularly recognize Raymond and Michael, whom I look forward to meeting at this year's Midsummer Classic and World Series."
Breaking Barriers has reached more than 22 million students since its inception, and the contest is annually open to students in fourth grade through the ninth grade. So many inspiring tales of strength and humility have been told, and each year raises the bar in terms of quantity and quality.
"The number of essays we received this year is phenomenal -- they were uplifting and truly inspiring," said Sharon Robinson in an official statement. "I am honored that the values my father used to break the color barrier have played such a large role in helping so many young people break through their own barriers. I am so happy for all of our winners, and I look forward to meeting them."
Spencer Fordin is a reporter for MLB.com. This story was not subject to the approval of Major League Baseball or its clubs.