Girardi, Jeter confident shortstop will find stroke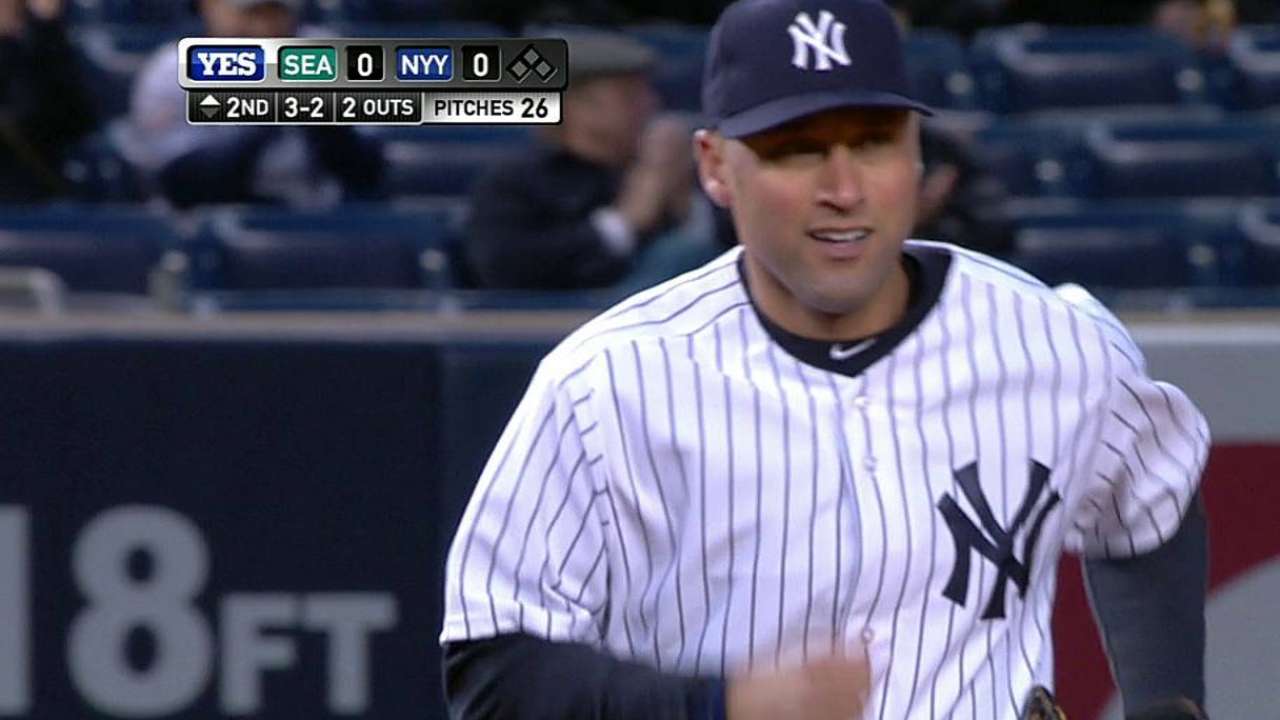 ANAHEIM -- The Yankees have watched Derek Jeter fight through slumps before, and in this final season, Joe Girardi is in no mood to revise the playbook. His plan is to keep writing the captain's name into the lineup and wait for the storm clouds to clear.
Jeter entered play on Monday with two hits in his last 24 at-bats, and hitless in his last 13 at-bats, but Girardi said that he has no plans to bump Jeter down in the lineup. Jeter batted second again on Monday, playing shortstop, as the Yanks opened a three-game series at Angel Stadium.
"People thought it was over before he got his 3,000th hit [in 2011], then he put up another 200-hit season after that," Girardi said. "I understand people's concerns; it's a couple years later. I understand that, but for the most part, we've left him alone and he's figured it out. We need him to do that."
The five-game slump has put a dent in Jeter's batting average, which dropped from .292 on April 26 to .240 entering play on Monday. That stretch included the first 0-for-7 game of Jeter's career on May 2 against the Rays, but Jeter said that he is not worried.
"I feel good. I was swinging the bat pretty good with the exception of the last four or five games -- and one of them counted for like three games," Jeter said. "I feel pretty good, and as long as I feel good, the results are going to be there."
Asked about the chances of dropping Jeter in the lineup, Girardi said that he has not given it any thought.
"We address our lineup every day, but I haven't yet," Girardi said. "He's not the only guy struggling. There are other guys that are struggling in our lineup, and we still put them fourth, fifth, third. We're still doing that. I think it's somewhat early to [make changes]."
Jeter said that he is hearing whispers about his age -- he's 39, and will turn 40 next month -- but is shrugging off those comments, as he has done in the past.
"I guess I was young for the first 20-something games, and I was old the past four or five," Jeter said. "I'm going to try to get young again."
Jeter points out that this is not the first time he has struggled over a brief period. It was a decade ago, in 2004, that Jeter memorably shattered an 0-for-32 slump with a homer. Jeter is confident that he will be able to deliver a big hit to break this skid as well.
"For me, it's a feel thing. I want to feel good," Jeter said. "If I feel good, the results will be there. Sometimes you feel terrible and you have results, but I'd rather feel good. When I feel good, I trust the results will come."
Bryan Hoch is a reporter for MLB.com. Follow him on Twitter @bryanhoch and read his MLBlog, Bombers Beat. This story was not subject to the approval of Major League Baseball or its clubs.