Torre calls Yanks retiring his number 'special'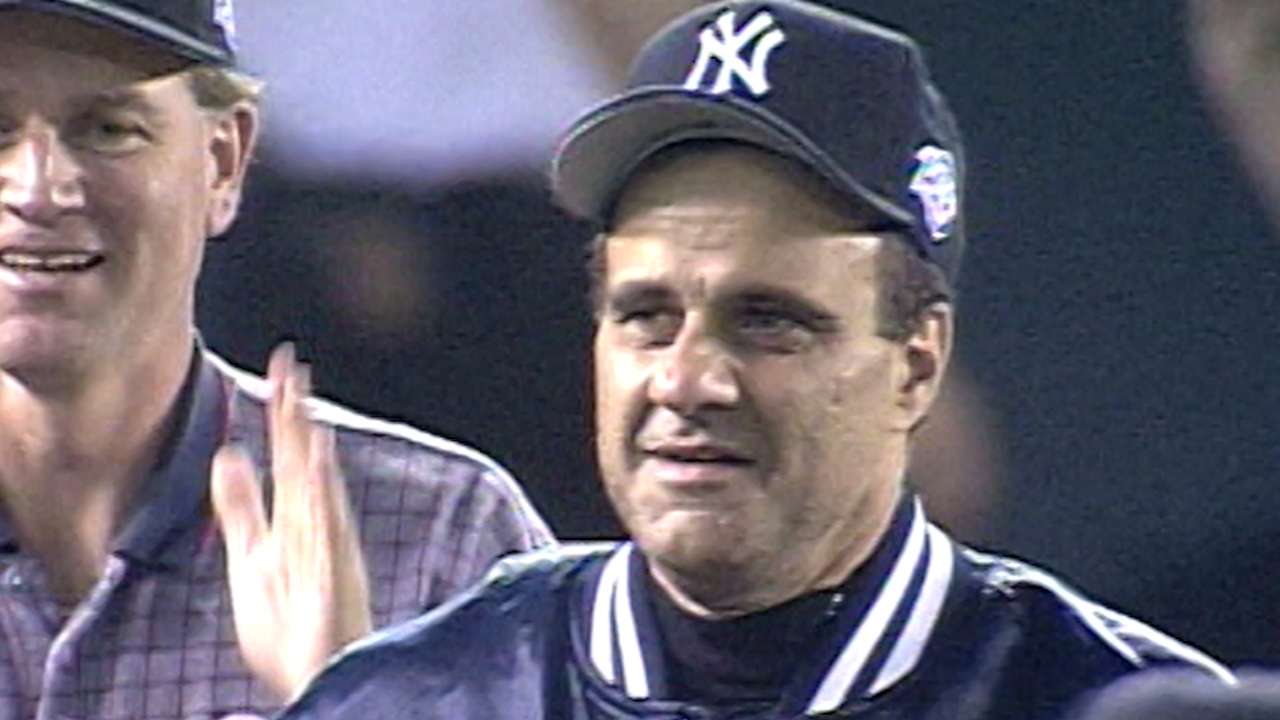 MILWAUKEE -- It promises to be an emotional summer for Joe Torre, who was already expecting to have a battle on his hands just to get through his induction speech at the National Baseball Hall of Fame in Cooperstown, N.Y.
Now that the Yankees have announced that they will also hold a ceremony on Aug. 23 to officially retire Torre's uniform No. 6 and recognize it in Monument Park, the former manager said that he has been choked up by thinking about what the tribute will mean to him.
"It's pretty special," Torre said. "It would always be special when you get honored by a particular team, but when it's the Yankees, you realize what their history is. You know you only have so many numbers to choose from."
Torre's No. 6 will be the 17th number retired by the Yankees to honor 18 players and managers. The ceremony will leave Derek Jeter's No. 2 as the lone remaining single digit in circulation, and obviously that number is ticketed for inclusion in Monument Park as well.
"Who could have ever dreamed at that point, in 1995-96, that this would be the result?" said Torre, who was in Milwaukee to be inducted into the Braves Honor Roll at Miller Park. "It's been awesome to me."
Currently Major League Baseball's executive vice president of baseball operations, Torre compiled a 1,173-767 (.605) regular-season record and a 76-47 (.618) postseason mark during his Yankees tenure, leading the club to the playoffs in each year that he managed the team.
While with the organization, he went 21-11 in the World Series, 27-14 in the American League Championship Series and 28-22 in the AL Division Series. Torre's regular-season wins total is second in club history to only Joe McCarthy, who went 1,460-867 (.627) over 16 seasons from 1931-46.
"When I was managing and I'd go out to the bullpen when somebody was hurt and I was watching them get loose, you would always sort of pause over there and just look [at Monument Park]," Torre said. "The thing that always caught my eye was Yogi [Berra] and Bill Dickey with the same numeral."
Torre said that he is pleased that several of his former players are also being recognized by the Yankees. Plaques honoring Goose Gossage, Paul O'Neill and Tino Martinez will be placed in Monument Park on three separate dates this summer.
Martinez and Gossage will be celebrated during Old-Timers' Day weekend on June 21 and 22, respectively. A ceremony for O'Neill will take place on Aug. 9. The ceremonies are part of a series of recognitions that will also include Bernie Williams next year.
"We had a special group," Torre said. "Even though we changed personnel on a yearly basis, there was just something when people came into our clubhouse. It was, 'How can we help?' It wasn't like, 'Here I am.' It really never changed the atmosphere."
Bryan Hoch is a reporter for MLB.com. Follow him on Twitter @bryanhoch and read his MLBlog, Bombers Beat. This story was not subject to the approval of Major League Baseball or its clubs.