Ryan starts for Yankees in place of Jeter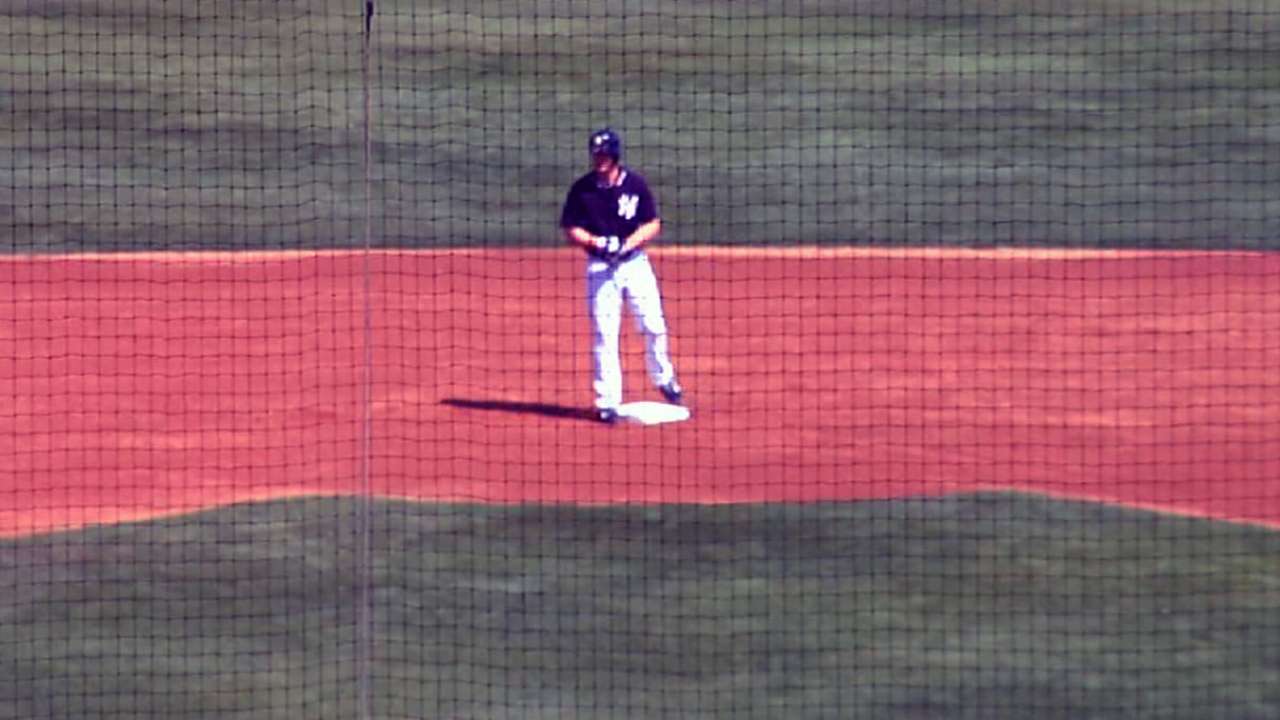 MILWAUKEE -- Brendan Ryan found his name in the Yankees' starting lineup on Saturday, the first time it has appeared there this season. It's also the first time that the infielder is getting the nod as Derek Jeter's understudy.
Ryan joined the Yankees last September after Jeter was already on the disabled list, and he started this season on the shelf himself with a back injury. This marks Ryan's first opportunity to fill the role that prompted New York to offer him a two-year, $5 million contract.
"It's something I couldn't have probably ever dreamed of," Ryan said. "I don't want to make too much of it, because I just want to focus on playing baseball. I'm sure I'll realize how cool it was more accurately after it's over.
"From a player perspective, it's always better to just dumb things down and not get lost in the impact of things and how cool things are in the moment. You want to stay as even-keel as you can, so I probably try not to make too big of a thing of it."
Yankees manager Joe Girardi said that he gave Jeter Saturday off because the club is playing an afternoon game against the Brewers on Sunday at Miller Park. The Brewers are also planning to honor Jeter before Sunday's game, but Girardi said that did not factor into his decision-making.
"I like to play every day," Jeter said. "This game, it's an everyday game, so I don't like days off. But that's nothing new. It's been like that since '96."
Girardi said that he is sure some fans bought tickets to Saturday's game hoping to see Jeter in his final season, but he cannot let that force his hand.
"I'm in a no-win situation," Girardi said. "I have to do what's best for the team and what's best for the player. And I understand people want to see him; I want to see him.
"It's a difficult situation, because I'm sure people bought tickets for tonight. For that, I'm sorry if they bought tickets just to come see Derek. But CC [Sabathia] is pitching -- I know they love CC. But it's a tough situation because I have to manage what's best for everyone."
Ryan batted .220 (13-for-59) in 17 games for the Yankees last September after being acquired from the Mariners in exchange for cash considerations. The defensive standout said that he had been impressed by the Yankees' clubhouse atmosphere, which helped influence his decision.
"There was obviously the you-never-know factor, but looking at the field, there's not a lot of open shortstop jobs out there," Ryan said. "And I was really impressed with what I saw last year, getting traded over here and the way things were done.
"I found it extremely refreshing to be a part of a winning environment again. That's something that I missed since St. Louis. Not to take a shot at Seattle or anything, but it's a lot more fun waking up in the morning when you feel like you're playing for something as a group."
Bryan Hoch is a reporter for MLB.com. Follow him on Twitter @bryanhoch and read his MLBlog, Bombers Beat. This story was not subject to the approval of Major League Baseball or its clubs.