Teixeira returns to lineup, hopes it's for good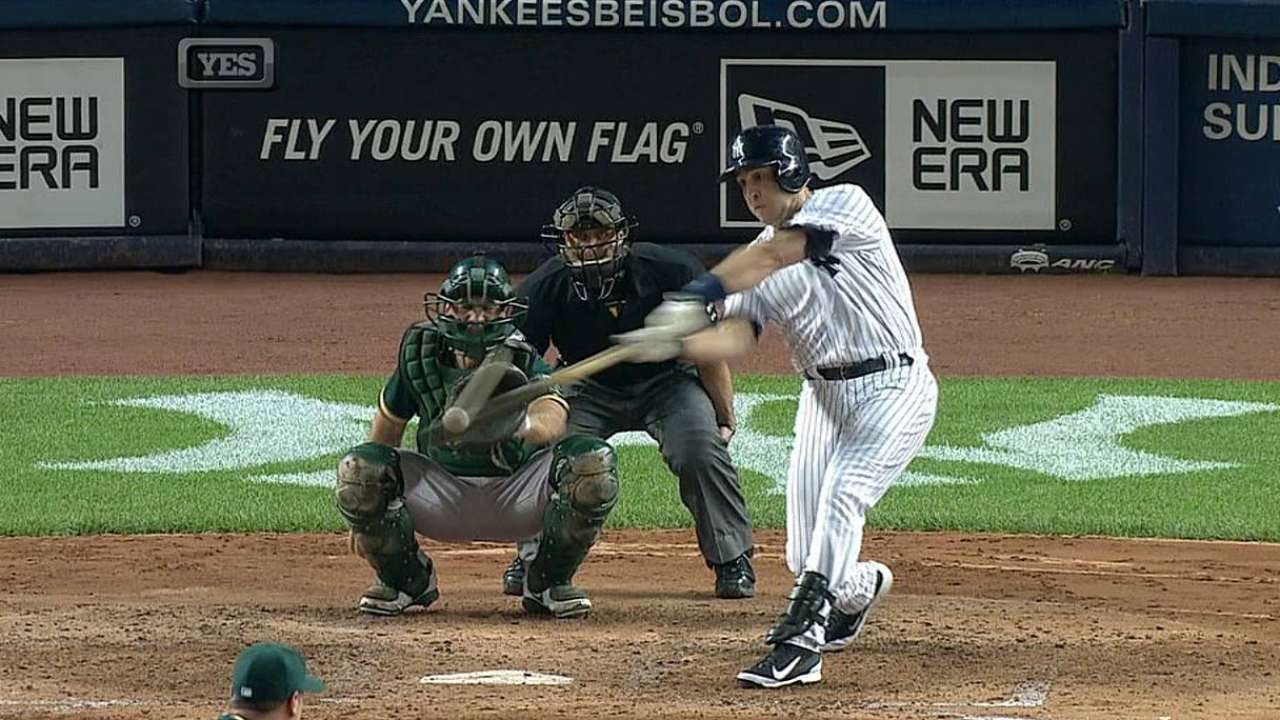 NEW YORK -- Mark Teixeira is ready to give it another go. The Yankees first baseman tested his right wrist in batting practice on Tuesday and declared himself fit to appear in the starting lineup.
Teixeira received a cortisone injection in his wrist after he was unable to swing the bat without discomfort on Saturday. Two full days of rest have helped alleviate that, Teixeira said, and he is hoping to be able to get back to regular playing time.
"It feels better," Teixeira said. "I saw the doctor yesterday. We think the shot has worked. Hopefully it will continue to feel better, hopefully that's today."
Teixeira immediately made his presence felt in the Yankees' 5-2 loss to the A's in 10 innings Tuesday. He drove in the first run of the game in the first inning on a bloop RBI single, then hit a go-ahead home run in the sixth, his 10th of the season.
After having season-ending surgery on the wrist last year, Teixeira said that the discomfort first flared up during the Yankees' visit to Wrigley Field in late May. He rested for three games on that road trip, sitting out a series in St. Louis, but may have aggravated his wrist by returning too quickly.
"I think you're going to watch it for a while to see how he does and make sure," Yankees manager Joe Girardi said. "Hopefully it's cleared up and it doesn't come back. Obviously I'm going to pay close attention to it and see how he's feeling. If it gets him, it will probably be more hitting left-handed than right-handed."
Teixeira has been told that he is dealing with only inflammation in the wrist and no structural damage, which he sees as an encouraging sign that the situation can at least be managed for the rest of the year.
"There's no pain with normal range of motion," Teixeira said. "Even up until yesterday, I felt pain with normal range of motion. Now when I go out and swing, it's a violent swing and hopefully there's no pain with a full swing. That's what we're making sure of."
During his doctor's visit this week, Teixeira said that he had an ultrasound on the wrist, as well as some strength tests.
"It's pretty easy. I know how it feels," Teixeira said. "I am an expert at it by now."
Bryan Hoch is a reporter for MLB.com. Follow him on Twitter @bryanhoch and read his MLBlog, Bombers Beat. This story was not subject to the approval of Major League Baseball or its clubs.