MLB.com Columnist
Barry M. Bloom
Hall of Fame celebrates 75th birthday with new exhibits
Hall of Famers Ripken, Niekro and others were on hand for Friday's giant celebration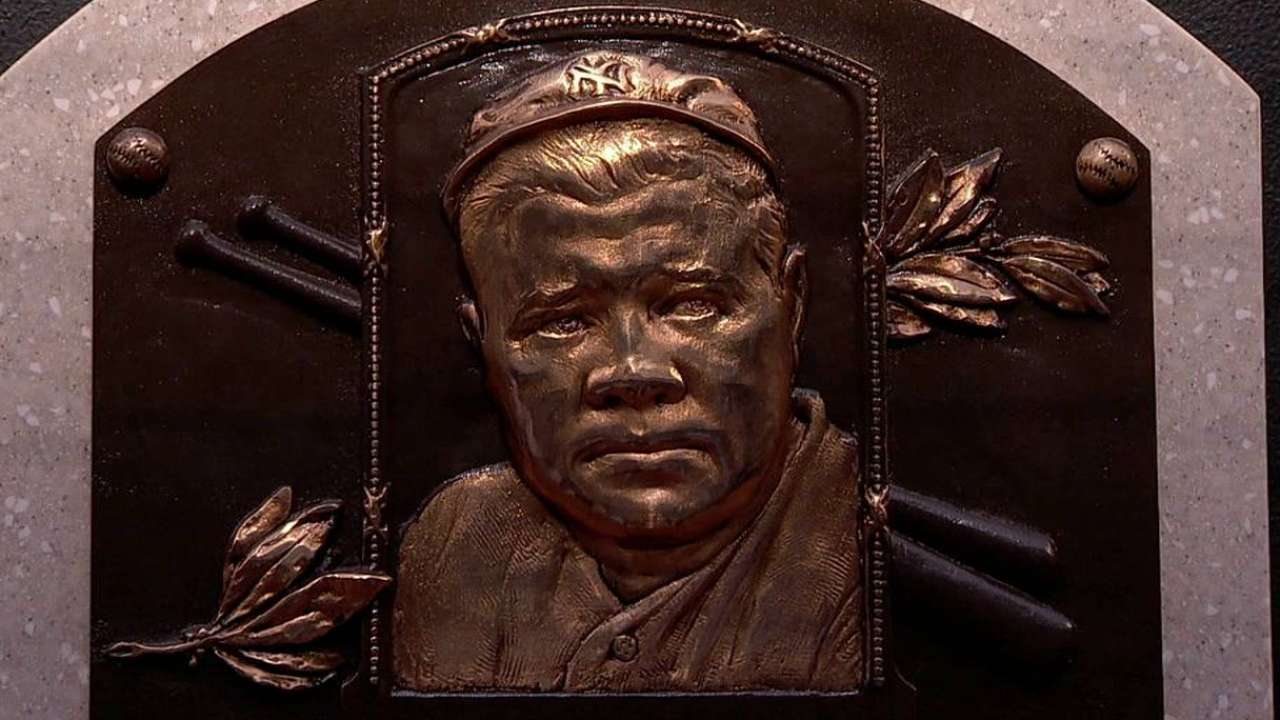 COOPERSTOWN, N.Y. -- A day after celebrating its big 75th birthday, Friday couldn't have been busier at the National Baseball Hall of Fame and Museum.
There were ribbon-cutting ceremonies in the morning to commemorate the opening of a new Babe Ruth exhibit, and a fusion of history and technology with the Google Cultural Institute.
Early in the afternoon, Hall of Famers Cal Ripken Jr. and Phil Niekro, who played substantial roles in the Hall's celebration Friday, trekked about 45 minutes away from the Hall of Fame to address a group of 700 high school kids about life, baseball and the Hall of Fame's BASE Program.
After catching a breather, the festivities, which spanned two days, ended with the players holding court in a question-and-answer session for the fans as part of the "Voices of the Game" series back at the museum's Grandstand Theater.
"The museum turned 75 years young yesterday, and the Hall is not just celebrating 75 years of existence -- but three-quarters of a century of overwhelming success," Hall president Jeff Idelson said in his remarks before the new Ruth exhibit opened. "Earning a plaque in the Hall of Fame is difficult, and those who have a plaque earned it their way, in their own unique ways.
"The common threads shared among them are career excellence dovetailed with a strong sense of character, integrity and sportsmanship -- respecting the game and respecting the uniform."
Those were the common themes of the day.
The new Ruth exhibit replaced the old one on the second floor of the museum and provides a scrapbook timeline of the Bambino's life told through newspaper clips, artifacts and rare film footage of Ruth's career -- spanning from his days as a rookie 100 years ago until his death in 1948, shortly after a last appearance at Yankee Stadium.
The uniform Ruth wore that day, when his No. 3 was retired by the Yankees, is front and center in a Plexiglas display set before the famous picture taken of him from behind -- as Ruth stood looking toward the outfield, using his bat for support.
Ruth never played in this particular pinstriped Yankees home uniform, a Hall official said. The uniform was part of his wardrobe for the 1942 film "Pride of the Yankees" about the life and death of his teammate Lou Gehrig. Ruth, who played himself in the film, wore that uniform at functions for the remainder of his life.
"This exhibit is just an exceptional opportunity to get even further exposure for Babe Ruth. It keeps his name alive," said Amanda Stevens, the 28-year-old great-granddaughter of Ruth who traveled from Cambridge, Mass., to be at the opening. "My family can't appreciate enough all the work and the effort that has made this what it is today."
After the ribbon cutting, which was attended by Niekro and Ripken among others, the group moved up to the third floor to christen a photographic exhibit presented through the combined auspices of the Hall of Fame's Cultural Institute and the Google Cultural Institute.
The historic black-and-white baseball photos of Latin-American and African-American stars are hung gallery style on stark, light clean walls. Google then used its "Street View" trolley camera to offer three-dimensional pictures of the gallery online -- giving a viewer the chance to focus closely on any facet of a particular photo.
Google Cultural offers virtual tours of museums around the world in this fashion, and now select galleries of the Hall are available to those who don't have direct access to Cooperstown.
"The richness of these two photo exhibits will dazzle and delight online audiences," Idelson said. "It will build interest in the Baseball Hall of Fame globally, while also generating tourism to Cooperstown, Central New York and all of New York State."
After working with a group of elementary school children gathered around laptop computers to study the site, Ripken and Niekro were whisked off to the Cobleskill-Richmondville High School, where they spoke to a group of local teens from seven area high schools about the Hall's four bases: physical fitness, nutrition, character and sportsmanship.
Niekro, who grew up in Blaine, Ohio, said his family was an integral part of the success he enjoyed in baseball, winning 318 games as a right-hander primarily throwing a knuckleball -- which these days pretty much is a lost pitch.
"I had a great connection with my family," said Niekro, whose late brother, Joe, also pitched in the Major Leagues. "My father was a coal miner. He took me fishing and hunting. There was a lot of love in our family. We went to church every Sunday together. I went to play bingo with my mother on Fridays. We did everything as a group. They supported me every step along the way."
Ripken was part of a baseball family, growing up in the Baltimore suburb of Aberdeen, Md. His father, Cal Sr., managed in the Minor Leagues and later coached and managed the Orioles. His brother, Billy, also played in the Majors, and for a short time, the three were together in Baltimore when his father managed the team.
"Looking back on it, I might have taken it for granted just a little bit," said Ripken, who broke Gehrig's consecutive-game playing streak and set his own at 2,632. "Here I had a sibling I could trust in the locker room and a dad, who could deal with any problem I had. You don't really realize how valuable that is until you're separated from that.
"Don't ever underestimate the power of your family and support system. Life is hard, even for a professional baseball player who gets to play a game for a living, it's hard. There are challenges in life that you need to deal with and you can't do that by yourself."
Barry M. Bloom is a national reporter for MLB.com and writes an MLBlog, Boomskie on Baseball. Follow @boomskie on Twitter. This story was not subject to the approval of Major League Baseball or its clubs.