MLB.com Columnist
Marty Noble
What would an All-New York team look like?
Jeter the clear choice for shortstop; Murphy would get nod at second base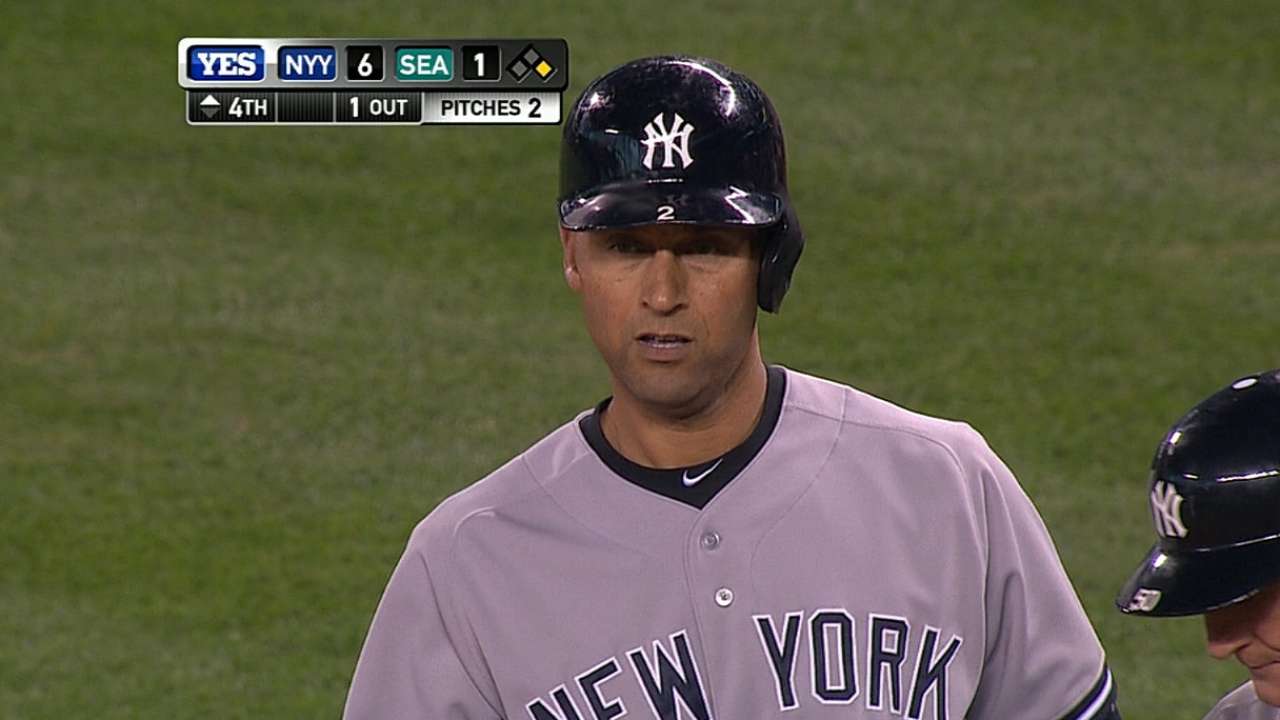 NEW YORK -- Earlier this month when the Yankees were a .500 team and the Mets could only aspire to be, I wondered how a New York hybrid might fare. How might a team made of active 2014 Mets and Yankees prosper? Would a New York entry in the postseason become a more likely contender than either team is now? (Note: The term "New York All-Star team" hasn't been used because it couldn't be justified, given the 50 active players available for the fantasy.)
And now, though Eric Young has been activated from the disabled list and Carlos Beltran and Francisco Cervelli are again functional, the choices aren't necessarily abundant. Which players, for instance, would man the middle of the diamond were the two rosters combined?
Derek Jeter would be the no-brainer choice at shortstop, but he's is essentially the only viable choice. Wilmer Flores and Ruben Tejada have had their moments in Queens, and Flores' defense has been less flawed that advertised. But even in his final season, Jeter has had more moments and fewer flaws. Moreover, he's Jeter.
Then, Tuesday night, before I began this one-mind debate about the second base assignment -- Brian Roberts or Daniel Murphy -- Jose Reyes hit the evening's first pitch as the Blue Jays faced the Yankees, one thrown by the nearly impeccable Masahiro Tanaka, into the lower stands in right field at Yankee Stadium. The resulting thought that occurred as Reyes took his 360-foot lap was that there would be no debate about shortstop if Reyes still drew his pay from the folks at Citi.
And all that public hand-wringing the Mets did following the 2011 season came flooding back. How could a club, any club, that didn't have Jeter, the next Cal Ripken, Alan Trammell, Robin Yount, Nomar Garciaparra, Omar Vizquel, Ozzie Guillen, Andrelton Simmons, or (yes) Alex Rodriguez, ever allow a talent of Reyes' caliber to leave without significant compensation? Regardless of his injury history, clubs wait for generations to sign a player of his ilk.
So we move to second base. At one point, Roberts would have been the choice, but he hardly is the player he once was, and Murphy hits more than any other middle infielder -- and most corner infielders and outfielders -- in the city.
His adventurous baserunning and his defensive skills are not special. But it's not his fault he wins by default. Morever, Murphy works at his game. If it can be practiced, he'll master it. But second base is about ad-libbing.
Back to first base. Lucas Duda improves almost daily, but Mark Teixeira is a superior glove. His switch-hitting and production make him the choice. I still think that if Teixeira hadn't fully recovered -- is his yet fully recovered? -- Ike Davis might have moved across the river instead of to the confluence of three other rivers, the Ohio, the Allegheny and the Monongahela.
Now, we go from first to third, something Reyes still does so well and most of the Mets don't. Without genuine protection in the batting order and playing home games in a ballpark designed to frustrate him, David Wright hardly is the offensive player he was when he had Reyes standing on second and Carlos Delgado standing on deck. And Yangervis Solarte is putting together a nice season in the Bronx. But I'll take the Mets' captain and toy with the notion of Solarte playing second.
The all-New York catcher is Brian McCann, not because he's in the midst of a wonderful season, but because no other catcher in town has been even that productive.
In comparison to the other positions, the outfield nearly qualifies as an embarrassment of riches. Jacoby Ellsbury plays every day, no matter what. If the team plays its home games in the Big Citi, Ellsbury is in right. If it plays in the splendidly regal park just off the Major Deegan, Curtis Granderson plays right and Ellsbury center. (Wright would love to take his chances in the Stadium's right-field wind tunnel.)
Juan Lagares in center field is a joy to watch -- regardless of ballpark -- and a must for this hybrid team with pitchers that, aside from Tanaka, aren't big on strikeouts. Let him play every day if Ellsbury's in right with Brett Gardner as the fourth outfielder, the pinch-runner and defensive replacement for left fielder Granderson.
Beltran, Solarte or maybe Murphy could DH. Better have a No. 2 catcher; Travis d'Arnaud would be fine, even though he's in the Minors right now. Need an understudy for Jeter? Tejada?
And on to the mound: Tanaka and Jon Niese are definites. Hiroki Kuroda is a possible No. 3. After them, what? Zack Wheeler or Jacob deGrom would definitely benefit from greater support this proposed NY-NY batting order could generate. And if Wheeler or deGrom didn't work, perhaps left-handed starter Vidal Nuno would be a good choice, since this team would be playing at least some games in the Bronx.
The All-New York bullpen not surprisingly would be almost all Yankees. David Robertson closes, and he's set up by Dellin Betances, Jenrry Mejia, Matt Thornton and which ever reliever is acquired when one of the extra players is sent packing or dealt.
Joe Girardi wears No. 28, and we know why. He's earned rings as a player and as a manager. Give Terry Collins a chance to manage a team that has more of what it takes and could maybe turn the occasional double play and hit with the bases loaded.
He'd still have a team with issues.
Marty Noble is a contributor to MLB.com. This story was not subject to the approval of Major League Baseball or its clubs.