Yanks honor Tino with plaque in Monument Park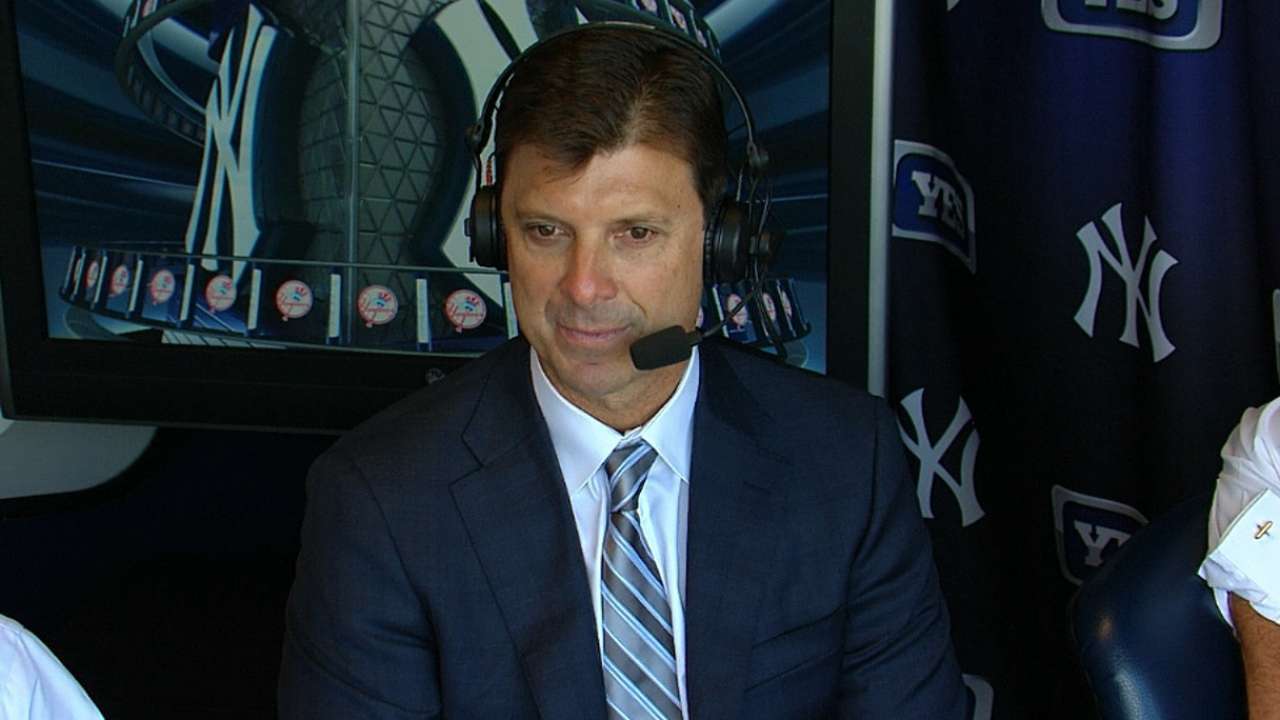 NEW YORK -- Before Saturday's game against the Orioles, the Yankees unveiled a plaque for former first baseman Tino Martinez that will join center field's Monument Park.
Martinez was acquired from Seattle prior to the 1996 season and went on to play seven seasons for New York, leading the team to four World Series victories. He hit .276 with 192 home runs and 739 RBIs in his Yankees career.
After the ceremony, Martinez remembered when he was first told that he'd be honored with the plaque. He was in Augusta, Ga., for The Masters golf tournament when he received the call from Jennifer Steinbrenner Swindal.
"I was stunned," Martinez said. "I was by myself, my wife was home, my daughter was in school still. I was there by myself. Nobody was in my room still and I'm looking around just going, 'What?' I called back a half-hour later and said, 'Are you sure?'
"Thinking back to those first days when I got here, I was really excited to be a Yankee. I know I started out slow, but I just wanted to go out there and play hard, help the team win championships, which we did. I never imagined having a plaque in Monument Park when I was playing. When they called me, I was still overwhelmed by the whole situation, out there with all those great names, and you're about to be put out there as well. It's crazy. I'm honored, I'm humbled by it, but again, it's really the result of the successful team I played on."
After Don Mattingly retired and left first base vacant, Martinez knew he would have a lot of expectations, especially trying to supplant Mattingly's power.
"He had some really big shoes to fill," said manager Joe Girardi, one of Martinez's teammates in the late 1990s. "[Mattingly], rightfully so, was a fan favorite and great New York Yankee. Awesome first baseman, and Tino had to kind of earn his stripes and he did it fairly quickly. He did a really good job in handling that situation."
"I don't think you can underestimate how tough it is to replace Don Mattingly," said David Cone. "Tino came in [1996], and maybe the first couple of weeks it was a slow start and then boom. We got 40-plus [home runs] and 140 RBIs out of him, we got our middle-of-the-order power guy, and that's what started the run.
Anticipating the ceremony, the Yankees scoreboard played highlights from Game 1 of the 1998 World Series, when Martinez launched a go-ahead grand slam off Mark Langston, one of his signature Yankees moments.
"Tino brought a real edge to the game and had high expectations," Girardi said. "I actually remember there was one day, him and [Paul] O'Neill, I was kind of in between their lockers, and they were arguing. Paul was jealous of the home runs Tino was hitting, Tino was jealous of the average that Paul had, and I'm thinking, 'Shut up. I don't need to hear this. Here I'm fighting every day to hit .260, .270. One of you has got 25 home runs, the other guy's hitting .325, I don't need to hear this. I don't feel bad for either one of you.' That's how they were."
After Martinez's news conference, former manager Joe Torre, former longtime athletic trainer Gene Monahan and former teammates Jorge Posada, Mariano Rivera and David Cone reflected on Martinez's time with the Yankees.
"A lot of times he didn't think he helped the ballclub as much as we all knew he did," said Torre.
"He was a tough, tough player," said Posada. "He was not always the outspoken one, but he was one of my favorites."
Monahan echoed those thoughts.
"He didn't lead with a lot of firepower, he let his stuff do the talking at the plate," said Monahan. "Every once in a while, if some young fellow wasn't backing up a play or somebody was a little lackadaisical here at the plate ... he'd give him a little nudge, and look him with his narrow eyes and straighten that guy right up. He's a team player all the way."
"[It's ] a privilege when you have a guy like that [who] will tell you the right things, even when you don't want to hear those things," said Rivera. "I was happy to play with him and I'm happy that I can call him my friend."
Jake Kring-Schreifels and Jamal Collier are associate reporters for MLB.com. This story was not subject to the approval of Major League Baseball or its clubs.