Boomer Broadway softball event benefits charity
Yankees alumni join Broadway stars, Wounded Warrior Amputee Softball members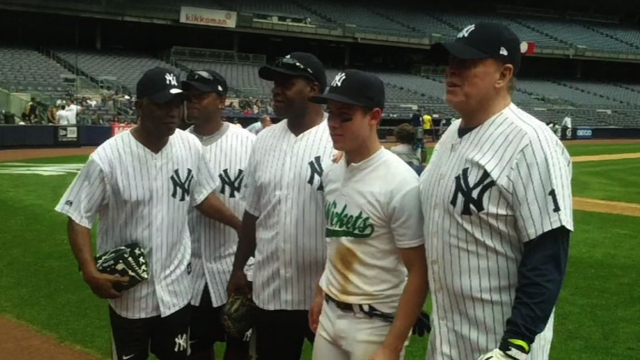 NEW YORK -- Yankee Stadium was the host of the Bombers Boomer Broadway Softball Classic on Monday. The fourth annual event features a doubleheader of games, with Broadway stars playing each other in the first game and a team put together by Boomer Esiason facing some Yankees alumni and members of the Wounded Warrior Amputee Softball Team in the second game.
The event has been held each year on the Monday after Old-Timers' Day, and it is a chance to bring the Yankees and Broadway closer together and raise money for charity.
"Certainly, being in New York, Broadway is very meaningful to the city," said Robert Bernstein, the Yankees' assistant director of marketing, events and fan development. "Being able to continue to build the relationship with Broadway and bring them into the Yankee component during the season is great."
Notable participants included 2014 Tony Award nominees Ramin Karimloo ("Les Miserables") and Bryce Pinkham ("A Gentleman's Guide to Love and Murder"), former Yankees Brian Boehringer and Orlando "El Duque" Hernandez, NHL Hall of Famer Mark Messier and former MLB All-Star John Franco.
Money raised from the game will go to The Actors Fund and the Boomer Esiason Foundation Fighting Cystic Fibrosis.
"It's another opportunity for them to raise funds for their organizations as well as have a great day out here at the ballpark," Bernstein said.
Jamal Collier is an associate reporter for MLB.com. This story was not subject to the approval of Major League Baseball or its clubs.