Robertson hoping to become two-time All-Star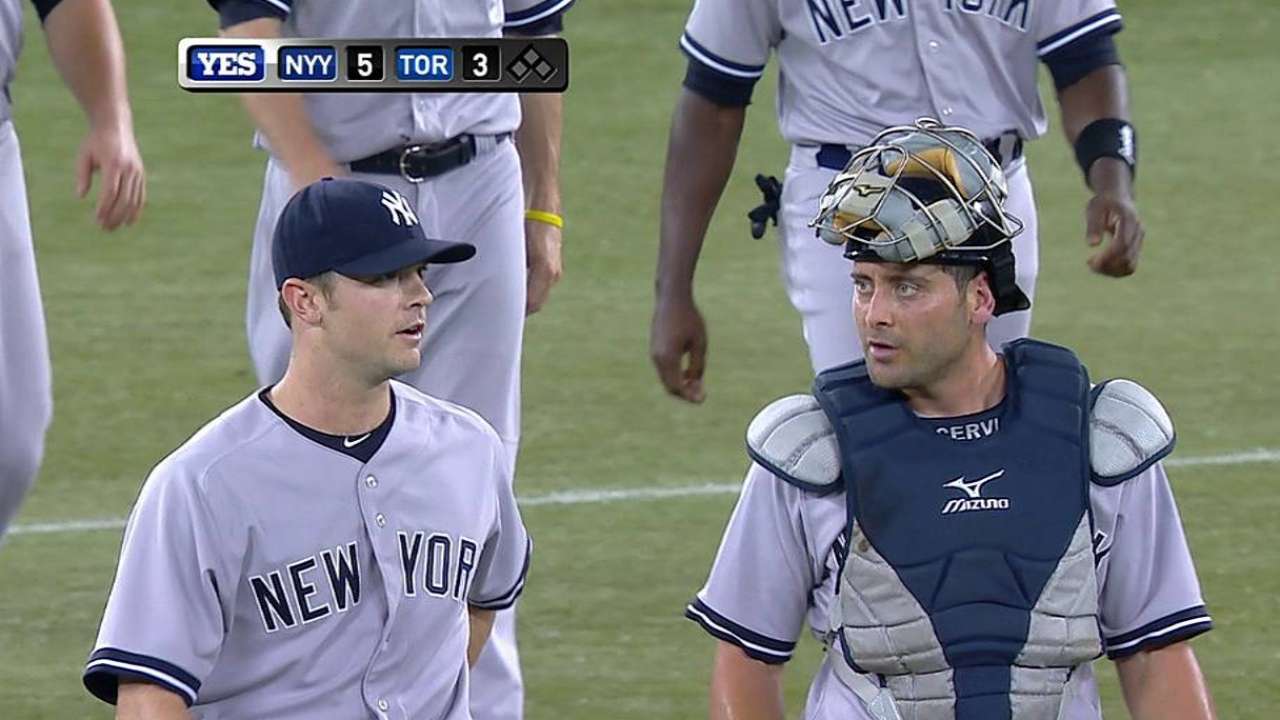 NEW YORK -- David Robertson's first experience at an All-Star Game felt like it went by too quickly, as the Yankees reliever rushed to the 2011 Midsummer Classic as a last-minute injury replacement. He'd love to get a chance to take it all in this year.
In his first full season as the Yankees' closer, Robertson will be in the conversation to help comprise the American League bullpen for the July 15 contest at Target Field, owning a 2.93 ERA and 18 saves in 27 appearances for New York entering Tuesday.
"It'd be awesome. I would love to go," Robertson said. "My numbers aren't exceptional -- I think without that 15-day DL [in April] I probably would've picked up a few more saves, but I'd love to go. Who wouldn't want to go to the All-Star Game?"
Robertson has 41 strikeouts over his last 19 appearances, averaging 18.76 strikeouts per nine innings. He and fellow reliever Dellin Betances have teamed to create a dynamic duo in that regard, and if the AL needs a big strikeout for a key spot, either hurler would be a solid choice to get the job done.
"I think you can talk about [Robertson] and the success that he's had," Yankees manager Joe Girardi said. "The unfortunate thing about the All-Star Game is there's a lot of deserving players that stay home. I personally wish they would expand the roster, but that probably won't happen."
In 2011, Robertson had made plans to spend his All-Star break in Connecticut with his wife, Erin, when Rays left-hander David Price was scratched from the roster due to injury. Robertson was quickly dispatched on a flight to Phoenix, where he arrived in time to watch Robinson Cano win the Home Run Derby.
"I was a day late getting there and missed a lot of the festivities the day before, and I didn't really know what was going on," he recalled. "I was kind of jumping all over the place. I was young, too, but I had a great time. I wish I'd been there on time and didn't have the sneak-in experience."
The hustle was worth it. Unexpectedly, Robertson got a chance to pitch in the game, hurling a scoreless second inning in the National League's 5-1 win. Robertson got his hopes up as a Final Vote candidate last year, finishing behind the Blue Jays' Steve Delabar, so he'd be thrilled to have a confirmed spot this time.
"I just remember it being weird to me, being around so many great players," Robertson said. "You play against all these guys, but it's so strange when you're getting dressed in the same clubhouse and showering after the game. It's just a different feeling.
"I would say I was more nervous than anything. It's weird walking in and having the locker next to Jacoby [Ellsbury] and Jon Lester, and having Felix Hernandez walking through the clubhouse. Those are the memories I take away, just being in the clubhouse."
Fans can cast their votes for starters at MLB.com and all 30 club sites -- online or on a mobile device -- using the 2014 All-Star Game MLB.com Ballot Sponsored by Experian until Thursday at 11:59 p.m. ET.
Bryan Hoch is a reporter for MLB.com. Follow him on Twitter @bryanhoch and read his MLBlog, Bombers Beat. Jamal Collier is an associate reporter for MLB.com. This story was not subject to the approval of Major League Baseball or its clubs.